Japan is ready to promote dialogue and exchange with China in all areas and at all levels with emphasis on exchange between the young people who shoulder the countries' future, Fukuda said.
Regarding environmental protection and energy, Fukuda said these are important issues "not only for the future of Japan and China, but also for that of the region and the whole of international society."
"Environmental protection and energy are important issues of cooperation between Japan and China in building mutually beneficial relations which can contribute to Asia and the world," he said.
Japan is ready to cooperate with China in promoting efficiency of coal-fired power generation, water purification and a recycling economy, said Fukuda, adding that the two neighbors have already started work in those fields through a joint committee on environmental protection and high-level economic dialogue.
Fukuda, who took office in September, is scheduled to begin a four-day official visit to China on Thursday.
He said in the interview that he plans to make detailed suggestions on bilateral cooperation in environmental protection and energy during his visit.
The premier also said he expects to discuss the East China Sea issue, climate change and the Korean Peninsula issue with Chinese leaders during his meetings in Beijing.
The Japanese prime minister is scheduled to hold talks with his Chinese counterpart Wen Jiabao, and meet with Chinese President Hu Jintao and top legislator Wu Bangguo.
Fukuda will also give a speech at the prestigious Peking University and visit a primary school in Beijing. His itinerary, among other activities, includes a visit to Tianjin, a city close to Beijing, and Qufu, in Shandong Province, the hometown of Confucius.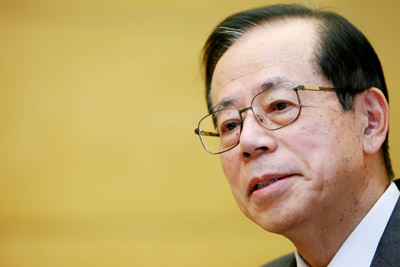 Japanese Prime Minister Yasuo Fukuda is in an interview with Xinhua and other Chinese media at the prime minister's office in Tokyo on Tuesday December 25, 2007 before his upcoming visit to China. He said he hopes to further promote relations with China to a new stage. [Xinhua]