SHENZHEN: The craze for unique pets among residents of Guangzhou has created a thriving market for illegally imported animals, customs officials said.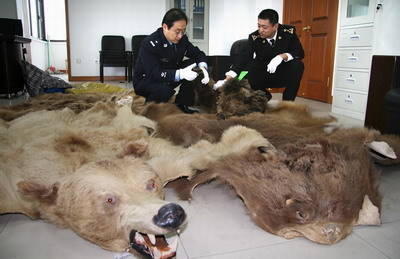 Customs officials at Urumqi International Airport in Northwest China's Xinjiang Uygur Autonomous Region examine wild brown bear furs seized on Monday December 24, 2007. Xinjiang officials said they had cracked down on a slew of smuggling cases recently, mainly involving wild animals. [China Daily]
"In the past two years we have been seizing a lot of animals, including some on the lists of endangered species assembled by international organizations," a publicity official at Guangzhou Customs surnamed Xu told China Daily yesterday.
Many of them were destined for local pet markets, she said.
Smugglers send the animals from other countries to China via sea transport or mail, she said.
Customs officials recently cracked a case in which a South Korean man tried to smuggle 50 boas and 56 lizards into Guangzhou from Jakarta, Indonesia, by air.
Customs and anti-smuggling officials spotted 10 suspicious bags and three boxes in his suitcase as his luggage passed through a scanner on December 14.
Closer investigation revealed the contraband snakes and lizards.
Animal experts said the animals belonged to 10 different species.
Sixty-seven of the reptiles were on the appendix ii list of the Convention on International Trade in Endangered Species of Wild Fauna and Flora, making them subject to limits when it comes to international trade, Xu said.
"The man admitted he was bringing these animals into the country for delivery to pet markets in Guangzhou," she said.
If these animals are found to be wild or endangered species, the man will face criminal charges, she said.
Chen Xi, vice-president of an environmental protection society at South China Agricultural University, said it had become a fad among local residents to own unique pets, rather than the more traditional cats and dogs.
His group, the Environmental & Science and Technology Association, launched a one-year study of the trend in August, hoping to measure its impact on the environment.
The China Program of Conservation International, one of the largest global non-profit non-government environmental organizations, is providing support for the study.
"It is cheaper to smuggle some kinds of animals, which can be had for just half or a third of the normal price on the market," Chen told China Daily.
Their research has found that dealers are cautious about discussing smuggled pets with strangers, preferring to deal only with frequent buyers or their friends, he said.
An official surnamed Yuan with the Guangzhou publicity and education center on environmental protection, an organization under Guangzhou environmental protection bureau, had called on the pet owners to buy animals through legal channels.
The center has urged people not to let imported pets loose in nature, as alien species have been known to harm the environment.