The Third China-US Strategic Economic Dialogue, which convenes tomorrow (December 13), will address product quality and food safety. This focus reflects public concern over these issues in both countries. It also shows that the two governments are committed to protecting people's livelihood and consumers' rights, and that China and the United States are working together to meet new challenges posed by economic globalization.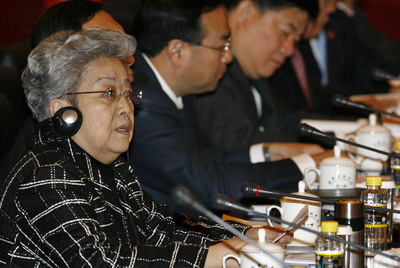 Chinese Vice-Premier Wu Yi gives an opening statement during the opening of The Third Strategic Economic Dialogue in Xianghe, near Beijing, December 12, 2007. [Agencies]
With a population of 1.3 billion, China is both a big manufacturing center and a large consumer market. "Putting people first" is the principle followed by the Chinese government as it works to meet its people's growing material needs.
The Chinese government takes product quality and food safety very seriously. Quality, but inexpensive, Chinese goods are favored by consumers across the world -- and particularly American consumers. China is a responsible member of the international community, and the Chinese government has redoubled efforts to strengthen the system of supervision and control over product quality, especially relating to exports.
Take, for example, the "Product Quality Law," the "Standardization Law," the "Law on Import and Export Commodity Inspection," the "Food Safety Law," the "Administration Regulation on Agricultural GMOs" and the "Regulations on Responding to Public Health Emergencies" -- all of which have either been passed or amended in recent years. This commitment is also evidenced by the establishment of the General Administration of Quality Supervision, Inspection and Quarantine; the founding of the State Food and Drug Administration; and the strengthening of law enforcement by government agricultural, health and market regulatory authorities.
In particular, ongoing efforts have been made to crack down hard on counterfeiting and ensure market order. Thanks to its efforts over the years, China has come a long way in strengthening product quality and food safety control and supervision.
With economic globalization gaining momentum, product quality and food safety have increasingly become a global issue. The Chinese government shares the concerns of both Chinese and foreign consumers about product quality and food safety. We are keenly aware that even if 10,000 quality products are sold, just one defective product that finds its way to market will harm the interest of the consumer who buys it.