A Chinese former "comfort woman" flew to Canada Thursday to place pressure on the Canadian parliament to pass a bill urging Japan to formally apologize to women forced into sexual slavery during World War II. The Dutch parliament endorsed a similar resolution this week.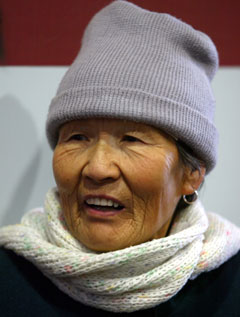 Liu Mianhuan 
Liu Mianhuan, 80, from Shanxi Province, was joined by three other comfort women from South Korea, the Netherlands and the Philippines, and is scheduled to take part in a series of events in Toronto and Ottawa during the next few days to raise public awareness among Canadians.
The events have been organized by the Global Alliance for Preserving the History of World War II in Asia, a non-profit organization.
The four women are expected to appear before the Canadian parliament on Tuesday, Kang Jian, a Chinese lawyer who is representing Liu, said.
Liu has been to Japan four times since 1995 but has so far been unable to extract a formal apology or reparations from the Japanese government.
"I will fight for justice as long as I am still breathing", Liu, a mother of five said Thursday, before boarding the flight.
"The fight will never stop until justice is served.
"My sons and daughters will take up my cause if I cannot wait for justice to be delivered in my life."
Liu is believed to be one of a dwindling number of comfort women still alive in China.
Su Zhiliang, the president of the China Research Center on Chinese Comfort Women, said there are only 46 comfort women still alive in China after one died earlier this year.
A Chinese belief that exposing one's misfortunes would bring shame on a person and their families made Liu, who at 15 was abducted by Japanese troops and became a forced sex slave, reluctant to publicly reveal her past until 1994.
Researchers and historians estimate that as many as 400,000 women and girls in Asia - half of whom are Chinese - were forced to become sex slaves in between 1937 and 1945.
Japan has long shied away from making a formal apology and paying financial compensation, insisting that all government-level compensation had been settled by post-war peace treaties.
The case, however, has been winning international support.
The lower house of the Dutch parliament passed a motion on Tuesday urging Japan to apologize and compensate those comfort women.
The US House of Representatives approved a similar resolution in July.