BEIJING - Chinese Premier Wen Jiabao paid an official visit to Singapore last Sunday and later attended a series of important regional meetings there, including the ASEAN plus Three summit, the East Asia summit and the trilateral meeting of the leaders of China, Japan and South Korea.
This visit is highly fruitful as it has deepened China's good-neighborly relations with members of the Association of Southeast Asian Nations (ASEAN) and strengthened cooperation among East Asian countries, Foreign Minister Yang Jiechi, who accompanied Wen on the visit, told Chinese media Wednesday night.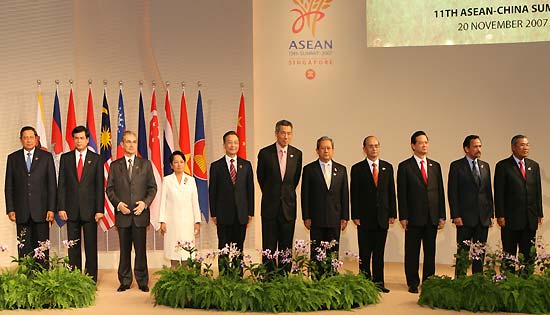 Chinese Premier Wen Jiabao (5th,L) attends the 11th the Association of Southeast Asian Nations (ASEAN)-China Summit in Singapore on Nov. 20, 2007. [Xinhua] 
Pragmatic cooperation in East Asia boosted
While participating in the regional meetings, Premier Wen reviewed cooperation among East Asian nations in the last decade and expounded on China's policies on its future development, Yang said.
Wen stressed that the cooperation should be based on mutual respect and equality in order to realize common development and prosperity in the whole region.
The premier said China will continue to seek harmonious political relations with countries in this region and boost cooperation in economy, culture and security with them to build a peaceful, harmonious and prosperous East Asia.
Wen also made a number of pragmatic proposals for cooperation between China and ASEAN, covering such fields as politics, security, economy and trade, environment, and sustainable development, said Yang.
The premier urged stepped-up research on a free trade area between the two sides and the connection of roads, railways, air routes as well as information networks between the two.
At the East Asia summit, Wen elaborated on China's policies on climate change and signed with the other leaders the Singapore Declaration on Climate Changes, Energy and Environment.
Wen's remarks and proposals were widely agreed and leaders of the attending countries all pledged to work with China in pushing forward cooperation in East Asia and promoting regional prosperity and stability, Yang said.