If you live in Shanghai and have that sinking feeling there's a scientific explanation - Shanghai sank 7.5 millimeters this year the same amount as last year, a geological engineer said yesterday.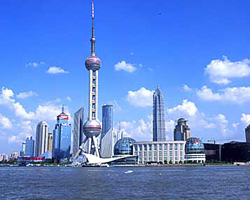 A view of Shanghai [File]
"We want to control the annual sinking to within five millimeters by 2010," Wei Zixin, a researcher with the Shanghai Institute of Geological Survey, said yesterday at a geological technology forum.
The depth was the smallest since 2000 but severe subsidence of 8.3 millimeters was detected in downtown areas.
The sinking is mainly caused by the city's busy construction sites, particularly the Metro tunnels which can cause uneven subsidence in downtown places.
To offset the subsidence, the government has banned pumping underground water for industrial and agricultural purposes in the city's rural areas including the Baoshan District. It also pumps back underground water on a regular base.
Wei and his colleagues have established a network to monitor the underground water conditions at 50,000 different spots throughout the city.
By observing the quantity and quality of underground water, his team can report constantly to the city government.
Shanghai, known as "above the sea" in Chinese, only sits a scant four meters above the sea on average.
In the 1960s, Shanghai was sinking by more than 10 centimeters a year - a rate that would have left it flooded by 1999 if urgent action had not been taken.
The city's Metro authority is planning to install sensors and cameras inside subway tunnels to detect distortion and leakage caused by subsidence.
The system will enable Metro operators to oversee the safety of tracks and tunnels 24 hours a day.