GUANGZHOU: The country's largest rescue ship was added to maritime service in this coastal city of South China Sunday.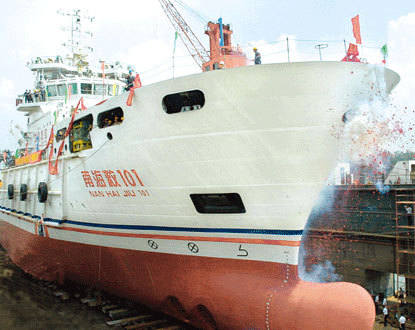 Nanhaijiu 101, China's largest rescue ship is seen in this undated photo. [China Communication News Net]
Designed and built in China, Nanhaijiu 101 is "the largest, fastest and the most powerful" rescue ship in the country. It has two engines that can generate 14,000 kW, 6,000 kW more than the capacity of the any other ship in the fleet.
The 100-m long vessel can rescue up to 200 people, and has landing space for helicopters. It can fight fires, tow ships and search for vessels at night.
"The Ministry of Communications plans to build two more such ships to be used in the East China Sea and the North China Sea," Song Jiahui, director-general of the ministry's China Rescue and Salvage Bureau, said.
The ships will cost 260 million yuan ($39 million) each and will be built by Guangzhou Huangpu Shipbuilding Company of China State Shipbuilding Corporation.
Song said the ministry's goal is to have a fleet of rescue ships of different sizes and speed in place by 2010. That would cut the time needed for rescuers to reach those in need of help.
The ministry plans to expand its maritime rescue helicopter fleet from four to 12 by 2010. The number doesn't include helicopters commissioned on hire.
The deaths of 282 people in a capsized ferryboat in Bohai Bay off Yantai, Shandong Province, in December 1999, prompted the central government to build a strong offshore rescue team. And by 2003 it had bought a number of modern rescue vessels and helicopters.
The fleet has rescued 11,980 people, including 1,781 foreigners, in the past four years.