SINGAPORE -- Chinese Premier Wen Jiabao arrived here Sunday to start an official visit to Singapore and to attend a series of regional summit meetings to be held in the country.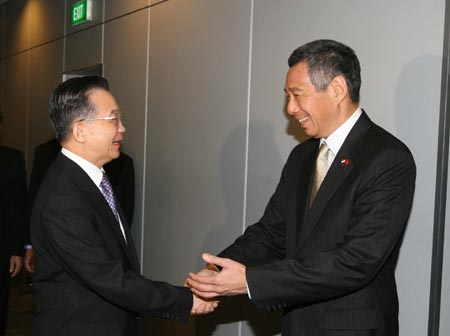 Chinese Premier Wen Jiabao (L) is greeted by his Singaporean counterpart Lee Hsien Loong while arriving at the Changi International airport in Singapore on Nov. 18, 2007. Wen Jiabao arrived in Singapore on Sunday for an official visit and would attend a series of regional summit meetings to be held in the country. [Agencies] 
In an arrival statement issued at the Changi International Airport, Wen said China and Singapore are friendly neighbors and the two peoples enjoy a close and traditional friendship.
"Since the establishment of diplomatic ties 17 years ago, China-Singapore relations have maintained rapid growth, and we have carried out fruitful cooperation in many areas, bringing benefits to both countries," he said.
The Chinese premier, who was met at the airport by his Singaporean counterpart, Lee Hsien Loong, and Zhang Xiaokang, Chinese ambassador to the island state, also expressed confidence that his visit would further advance China-Singapore relations.
It is the first visit by a Chinese premier to Singapore in eight years.
During his visit, Wen will deliver an important speech on China's reform and opening-up policies at the National University of Singapore.
He is scheduled to hold talks with Lee on bilateral cooperation and regional and international issues of common concern. He will also meet with Singaporean President S.R. Nathan, Senior Minister Goh Chok Tong and Minister Mentor Lee Kuan Yew.
After the visit, Wen will attend the 11th ASEAN (Association of Southeast Asian Nations) plus Three (China, Japan and the Republic of Korea) Summit, the 11th China-ASEAN Summit, the third East Asia Summit, and the eighth annual meeting of the leaders of China, Japan and the Republic of Korea (ROK).
In the arrival statement, Wen said he is looking forward to attending the meetings and "exchanging views with the leaders of other countries on ways to deepen East Asian cooperation so as to contribute to the building of a peaceful, harmonious and prosperous Asia."
Wen is also expected to have a meeting with his Japanese counterpart Fukuda Yasuo on the sidelines of the series of meetings.
It will be Premier Wen's first meeting with Fukuda after the Japanese prime minister took office in September this year.
The ASEAN plus Three Summit will review the 10 years of cooperation between ASEAN and China, Japan and ROK. It will issue a joint statement on East Asian cooperation, the second of its kind, and a working plan on the ASEAN plus Three cooperation, according to He Yafei, assistant foreign minister of China who is accompanying Wen.
He said Wen will reiterate China's position to support the integration process of ASEAN and its pursuit of a leading role in regional cooperation, and make some new proposals on the ASEAN plus Three cooperation.
At the East Asia summit, Wen will elaborate on China's position on climate change and the measures it has taken and further steps to tackle climate change, he said.
At the meeting of Chinese, Japanese and ROK leaders, the three sides are expected to make concrete proposals on strengthening practical cooperation, particularly in the fields of environmental protection, science and technology, as well as culture and youth exchanges.
Leaders of the three countries may also touch on the Korean Peninsula nuclear issue when they discuss some regional and international issues.
This is the fifth time for Premier Wen to attend the ASEAN series of meetings, and is an important visit by a major Chinese state leader after the 17th National Congress of the Communist Party of China held in mid October.
Among Wen's entourage are Minister of Finance Xie Xuren, Minister of Construction Wang Guangtao and Wei Liqun, director of Research Office of the State Council, as well as other senior officials from the National Development and Reform Commission, Ministry of Commerce and Ministry of Foreign Affairs.