BEIJING -- "Iris Chang: The Rape of Nanking", a film chronicling how a young Chinese-American writer explored one of the darkest episodes of history in 1937, is under discussion to be screened in China next month.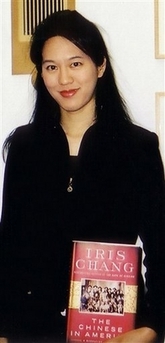 This photo released by Da Capo Press shows Iris Chang. [Agencies]
The 105-minute feature documentary is co-sponsored by the Toronto chapter of the Association for Learning and Preserving the History of the World War II (ALPHA) and the Hong Kong-based Dadi Entertainment.

It made its global debut this month in Toronto, the Beijing Daily Messenger reported on Saturday.
Chang was the author of the "The Rape of Nanking", an acclaimed history of Japanese brutality against China in the 1930s. She committed suicide in November 2004 at the age of 36.

Her book helped prompt Japan to re-examine the dark history of its wartime occupation of China.
The Nanjing Massacre occurred in December 1937 when Japanese troops occupied the then capital of China in Jiangsu Province.

An estimated 300,000 Chinese or more were killed while one-third of the houses in the city were burned and more than 20,000 women raped.
Dadi Entertainment is contacting relevant Chinese government departments and companies to have the movie shown domestically in December.

All box-office receipts for the film, which was produced at a cost of more than 10 million yuan ($US 1.3 million), will be donated to ALPHA.