China is expected to become one of the leaders in the wind energy market and play an increasing role in altering its polluting ways and combating climate change, industry experts said.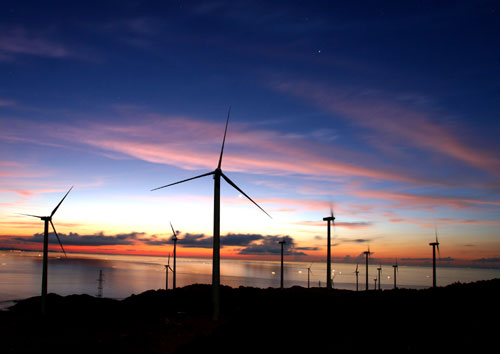 Windmills are seen at a wind power company in Guangdong Province, September 1, 2007. [Newsphoto]
The strong winds that blow through China's northern plains could be harnessed to help reduce the nation's carbon-dioxide emissions and help lead the fight against pollution, they said.
"With greater policy support to wind energy, China could become one of the top three wind energy markets in the world by 2020," Li Junfeng, an alternative energy expert, told reporters in Shanghai.
Li's comments came with the Paris-based International Energy Agency set to distribute Thursday a major review of China's energy needs.
China is the globe's second largest consumer of fossil fuels after the United States.
But China is also quietly emerging as a global force in renewable energy technology, and nowhere is this more evident than in the nation's burgeoning wind market.
China, which ranked 10th two years ago in terms of annual installed wind mills, now is number five after the United States, Germany, India and Spain, with rapid industry growth expected to catapult it to second spot by 2008.
Although the Chinese regulatory environment has often not favoured the development of wind power, the Asian giant still managed to add this year 1,300 megawatts of wind power, an amount equal to that of two average size nuclear power stations.
"Two years ago people thought (wind power) was a joke," Li said.
"Nobody thought it possible to reach a target of 30 million kilowatts of wind power by 2020," he added, noting that if the government had lent greater support 20 years ago, wind power could already be a major component of its energy mix.
Despite production capacity of 2.6 gigawatts last year, that is still less than one percent of China's energy mix, compared with 70 percent provided by polluting coal.
"Accelerating the development of wind energy should be part of China's strategy to reduce dependence on coal while meeting its energy demand," said Yang Ailun, Greenpeace China campaign manager for climate and energy.
Worldwide, the wind power sector is enjoying a major boom as countries try to reduce their dependence on increasingly expensive fossil fuels and cutting down on greenhouse gas emissions to fight global warming.
Last year, 23 billion dollars worth of new wind generators went online across the world, lifting total capacity by a quarter to more than 74 gigawatts, according to industry figures.
In China the annual growth rate of wind power capacity over the last 10 years has averaged 46 percent, and by this year's China's installed capacity will be five gigawatts, nearly three years ahead of Beijing's target.
"In many ways China is leading the pack," said Steve Sawyer, secretary of the Global Wind Energy Council, a Brussels-based forum which seeks to promote development of the sector.
For one, Chinese lawmakers passed a new law on renewable energy in 2006, which created a fund through mandatory public contributions to cover the additional costs of wind power.
However if the government were to give wind energy full backing, capacity could exceed 120 gigawatts by 2020, accounting for up to 10 percent of total installed country capacity.
"The global fight against climate change cannot be won without China playing a major role," said Sawyer.