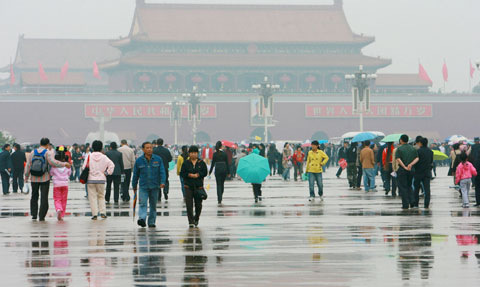 Tourists visit the Tian'anmen Square in the center of Beijing during the Golden Week holiday in this October 5, 2007 photo. [Xinhua]
The Legislative Affairs Office of China's State Council has given the public ten days to make submissions on its draft regulations on paid vacation.
According to the draft released Monday, all employees of government organs, civil organizations, enterprises, and public-service institutions are entitled to take paid vacation after serving the same employer for one year.
Employees who have worked from one to ten years would have five days paid vacation; those who have worked for ten to 20 years would have ten days; and those with more than 20 years 15 days. Legal holidays and weekends will not be included as paid vacation.
However, the paid vacation time would be deducted from winter and summer vacations, which some professions were entitled to.
They shall also be deducted from vacations designed for employees to visit their parents or spouses, if they are not living in the same city, according to the draft.
The draft stipulates that "employees should enjoy their full daily salary and welfare during the vacation just as when they are working".
The draft was issued in accordance with the Labor Contract Law and the Law on Civil Servants, says the draft regulations.
Paid annual vacation has been focus of publicly debated for some time in China.
In July 1991, a circular from the Communist Party of China Central Committee and the State Council officially says employees are entitled to vacations of up to two weeks.
The Labor Contract Law, which took effect in January 1995 stipulates that employees who have worked for more than one year should enjoy paid vacation, and the specific regulations will be issued by the State Council.But the State Council had not issued any draft regulations until now.
The State Council set November 16 as the deadline for submissions.