China and the United States Monday agreed to open a direct military hotline as Beijing urged Washington to stop arms sales to Taiwan.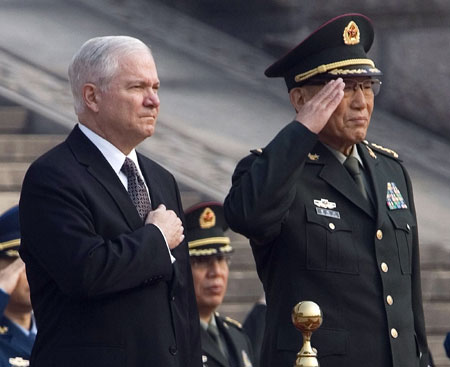 China's Defense Minister Cao Gangchuan (R) stands with visiting US Defense Secretary Robert Gates during a welcome ceremony in Beijing November 5, 2007. [Agencies] 
Defense Minister Cao Gangchuan said the two sides had agreed to ask departments concerned to make the necessary technical changes so that the telephone link can be set up at an early date.
The hotline would be the first of its kind between China and any country at defense ministry level. Discussions on setting up the military link had been going on since President Hu Jintao and US President George W. Bush agreed to advance bilateral military relations during their meeting in April last year.
Speaking at a joint news conference after 90 minutes of talks, visiting US Defense Secretary Robert Gates said: "We reached agreement on implementation of a direct telephone link between our two defense establishments The United States has a relationship with China that is candid, constructive and cooperative."
Cao asked the United States to take concrete actions to safeguard peace and stability across the Straits.
"We are closely watching the actions and attempts of the Taiwan secessionist forces If (Taiwan leader) Chen Shui-bian ventures to create incidents of 'Taiwan independence', we must take resolute measures to safeguard State sovereignty and territorial integrity," he said during talks with Gates.
The US should fulfill its commitment on the Taiwan question and stop official exchanges and military ties with the island, said Cao, also vice-chairman of the Central Military Commission.
In response, Gates said the US government's "one-China" policy remains unchanged.
Gates arrived in Beijing on Sunday night, the first stop of a week-long Asian tour, which will also take him to the Republic of Korea and Japan. It is his first China visit as defense secretary.
Cao said China also agreed to participate in a joint naval exercise with the US "at a proper time", and will enhance military exchanges.
Gates added: "We discussed ways to build on the active momentum of our defense relations and how to use this interaction to improve communications and reduce misunderstandings. We discussed the need to move forward and deepen our military-to-military dialogue, including on our nuclear policy strategy. We agreed to enhance military exchanges at all levels."
Gates is due to meet Hu, also chairman of the Central Military Commission, today.