Kneeling before someone was considered so demeaning in Chinese culture that it became an unwritten rule among the educated to prefer being beheaded to going down on their knees. But these are different times. In fact, people today have got bored reading media reports about young men and women kneeling down in public and even offering to "sell" themselves in times of need.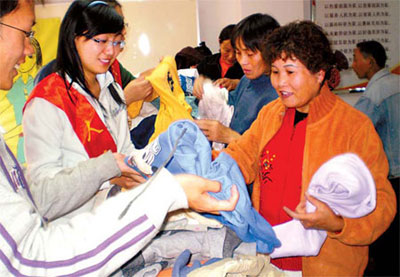 College students in Jiangsu Province donate clothes to people on October 17, the International Day for Eradication of Poverty. [China Daily] 
Desperate people have used the Internet, too, to get help. Chen Yi, a 20-year-old student of Southwest University in Chongqing, posted a photograph of herself on the Net, offering to sell herself to raise money to cure her ailing mother. That was at the beginning of the year, and Chen was seen kneeling in the photograph. So powerful was her appeal and so persuasive her language that people poured in more than 100,000 yuan ($13,333) into her bank account. And then someone discovered that Chen was wearing a Gucci in the photograph.
Zhong Cheng is another example of deception. The 19-year-old student of Shanghai School of Drama fell on his knees in a nightclub in Shanghai's upper-scale Xintiandi this February. He was seeking money to buy treatment for his sick mother. He received about 5,000 yuan ($666.7). Later, newspapers reported that he had spent a similar amount on his pet dog merely two months ago.
The two instances underline the embarrassing situation charity China is in today. There are a lot of people really in need of help, and there are those who are ready to give, too. But it's often seen that only those who can sell themselves convincingly manage to get help. And more often than not the really needy are ignored.
But it's not only the needy that need charity. Our transitional society as a whole needs it. While according to the list of the rich, China has the world's second highest number of billionaires (in terms of US dollars), National Bureau of Statistics show 30 million people live in abject poverty in the country's rural areas. Add to them another 30 million laid-off workers in cities forced into poverty.
With the widening gap of wealth and the great demand for help, charity is coming back, after being regarded as "a decoration of the ruling class used to cheat the people" from the 1950s to the 1970s.
The condemnation of charity perhaps reached its peak in the 1970s when a Shanghai factory worker sent 200 yuan ($26.7) to the government to help Anhui Province's flood victims and his letter landed in the hands of the factory's revolutionary committee. He was criticized for damaging the image of socialist society, writes Hunan Normal University professor Zhou Qiuguang in his book A Brief History of Charity in China.
Given the history of charity in the country, it's easy to understand that government organs still function as more than charity organizations in pooling donations and distributing them. For example, the government of the coastal city Weihai in Shandong Province declared last June a "charity month", and according to reports cash donations in the first 10 days reached 20 million yuan ($2.67 million). The Weihai government pledged that the money would be used to help disadvantaged people.
The government should not confuse charity with welfare, says Tsinghua University's political science professor Li Dun. "It's the responsibility of the government to provide welfare, and that of NGOs to do charity work."
China Charity Federation (CCF) statistics show more than 100 charity organizations have become active in the country since the Ministry of Civil Affairs-affiliated CCF - the first of them - was founded in 1994. And the total amount of money in these organizations' accounts exceeds 5 billion yuan ($666.7 million), according to the CCF.
But, "the majority of the so-called non-official charity organizations are actually affiliated to government organizations or have official backgrounds," says Zhou.
The government policy is to encourage the development of non-official charity organizations. Non-official charity organizations are needed in the build-up to a socialist harmonious society, said a 2005 Ministry of Civil Affairs notice, titled "Opinion on the Development of Unofficial Charity Organizations".
In a more resolute act, the government added a clause in the amendment to the Corporate Tax Law that was passed in March this year and would be enforced from January 1, 2008. It says that any corporation that donates to charity will enjoy tax benefit equal to the amount of donation if it is within 13 per cent of the tax payable. The existing law allows deductions of up to 3 per cent.
According to the new law, however, the money has to be donated to specified organizations that number less than 20. In contrast, there are more than 120,000 such organizations in the US, according to Yang Peng, who founded the NGO Alxa SEE Ecological Association in 2005 to protect the grasslands in and around Alxa Banner in North China's Inner Mongolia Autonomous Region.
The list of less than 20 "approved" charity groups includes such organizations as the China Charity Federation, the China Red Cross Foundation and the Soong Ching-ling Foundation. Smaller groups, like the one run by Yang are not on the list.
Even the organizations on the "approved" list face shortage of money. China Red Cross Foundation secretary-general Wang Rupeng says his organization got donations of 120 million yuan ($16 million) last year, the highest in its history, but the money had to be given away as soon as it was received. "Things will be much better if we can have a deposit and a good channel of investment," he said.
There are many more people who need help than those who actually get it. "Sometimes parents of sick children cry or kneel down as soon as they enter our office, but at most times even children who are very ill cannot get help because the limited amount of money (we get) can only go to those who have the highest chances of survival," Wang says.
"This may not be acceptable emotionally. But when you don't have enough resources, who do you help first?"