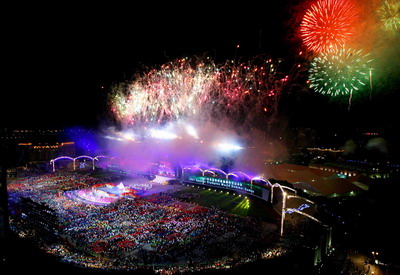 Fireworks explode during the closing ceremony of the 2007 Special Olympics World Summer Games in Shanghai October 11, 2007. [Xinhua] 
SHANGHAI: Brilliant fireworks, colorful costumes, stirring performances and banners that read "Thank you, Shanghai" - these were the joyous scenes at the closing ceremony of the 2007 Special Olympics World Summer Games Thurs night.
The Flame of Hope, ignited in Shanghai Stadium on October 2, burnt out as athletes of different races and nations hugged each other at Jiangwan Stadium, marking the conclusion of the event held for the first time in an Asian city.
After five years of preparation, Shanghai presented the world what many said was the greatest Special Olympics and provided people with intellectual disabilities an arena to display their abilities and talents.
Accompanied by Chinese Special Olympian Zhao Zengzeng, Shanghai Mayor Han Zheng handed over Special Olympics flags to the hosts of the 2011 Special Olympics World Summer Games - Athens, Greece - and co-chairs of 2009 winter games to be hosted in Idaho, US.
Tim Shriver, chairman of the Special Olympics, however, preferred to call the closing ceremony a "reopening".
"We are opening, here at the ceremony, the commitment to growing Special Olympics throughout China under the leadership of Special Olympics China and the China Disabled Persons' Federation in partnership with our global community and supporters," he said at a media briefing prior to the ceremony.
China has made the commitment to recruit as many as 1 million intellectually disabled athletes for its Special Olympics program by 2010, almost double the current figure.
Shriver thanked Shanghai and China during the 80-minute closing ceremony, which was divided into three chapters - "Connection of Hearts", "Happy You and Me", and "Linger in Eternity" as well as a closing part called "Sunshine Family".
Exhibiting a combination of Chinese and foreign cultures and civilizations, the ceremony was performed by performers with and without disabilities to form a colossal logo of the Special Olympics.
The achievements of mentally disadvantaged individuals were highlighted as hundreds of children stunned the audience with skilled performances in roller skating, gymnastics and hula basic acrobatics.
The climax was when Gao Qingyu, a disabled girl, descended on the stage to fulfill her dream of flying, representing a shared dream of all underprivileged people.
The ceremony also witnessed a host of celebrities including Jose Carreras of Spain, Marria Lucia of Italy, Michael Learns to Rock of Denmark, and Kenny G of the United States.