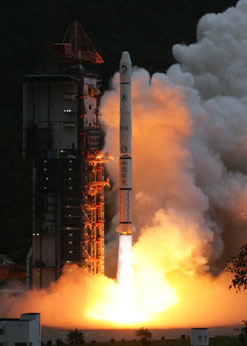 China's first lunar probe Chang'e I blasts off from its launch pad in Xichang Satellite Launch Center in Southwest China's Sichuan Province, October 24, 2007. [Xinhua]
XICHANG -- The launch of China's first lunar probe Chang'e-1 was successful, a Chinese official announced Wednesday evening at the Xichang Satellite Launch Center in southwest China's Sichuan Province.
Li Shangfu, director of the Xichang launch center, made the announcement after the orbiter successfully entered the earth orbit and unfolded its solar panel, paving the way for its transfer to the lunar orbit.
Chinese President Hu Jintao extended his congratulations to all those who have worked for the lunar exploration program shortly after the official announcement of the launch's success.
The launch of the lunar probe "marks another milestone in China's aerospace program after man-made satellites and manned space flights", said Chinese vice-premier Zeng Peiyan, who was watching the launch at the Xichang launch center.
The launch of Chang'e-1 means that China has taken a key step in its lunar exploration program. It is a symbol of China's bid to build an innovative country, said Zeng.
Chang'e-1 blasted off on a Long March 3A carrier rocket at 6:05 p.m. (10:05GMT) from the No. 3 launching tower at the Xichang Satellite Launch Center, the 15th successful launch in a row for the rocket.
It is the first step of China's three-stage moon mission, which will lead to a moon landing and launch of a moon rover around 2012. In the third phase, another rover will land on the moon and return to earth with lunar soil and stone samples for scientific research around 2017.
The year-long project, which is named after a legendary Chinese goddess who flew to the moon, is to analyze chemical and mineral composition and to explore the characteristics of the lunar surface.
The 2,300-kg satellite will experience four accelerations and is expected to enter earth-moon transfer orbit on October 31 and arrive in the moon's orbit on November 5.
It will use stereo cameras and X-ray spectrometers to map three-dimensional images of the surface and study the moon's dust.
It is expected to transmit its first photo back to China in the second half of November and then start to work for one year of scientific exploration.
China carried out its maiden piloted space flight in October 2003, making it only the third country in the world after the Soviet Union and the United States to have sent men into space. In October 2005, China completed its second manned space flight, with two taikonauts on board.