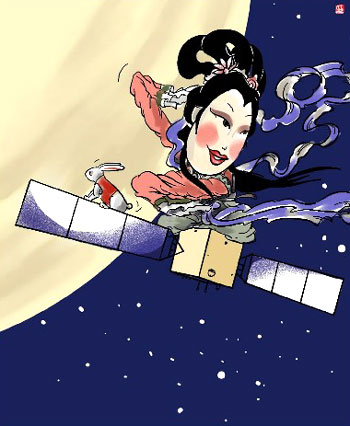 Chinese goddess Chang'e and her pet rabbit ride on the satellite to the moon in this newly-released cartoon, in celebration of China's first lunar orbiter Chang'e I which will be launched on October 24, 2007. [Xinhua]
The cartoon "Chang'e Goes to the Moon" was released on Wednesday to celebrate the upcoming launch of the Chang'e-I, China's first lunar satellite, next week.
The cartoon, released by Xinhua News Agency, shows Chang'e and her pet rabbit riding the satellite to the moon. Chang-e is the goddess of the moon in traditional Chinese legend.
The cartoon shows the belief that the lunar satellite will fly to the moon gracefully, just like Chang'e in the legend. The satellite was named after the goddess for this reason.
Preparations for the launch of the lunar satellite are going smoothly, says Zhang Qingwei, director of China's Commission of Science Technology and Industry for National Defense.
Zhang adds that the upcoming launch of China's lunar satellite will be China's third historic landmark in its space exploration program, following China's first satellite launch in 1970 and its first manned space flight in 2003.