PUTIAN, Fujian Province -- The death toll in a shoe factory fire in southeast China has risen to 37 from 34, with another 19 people injured, local authorities said on Monday.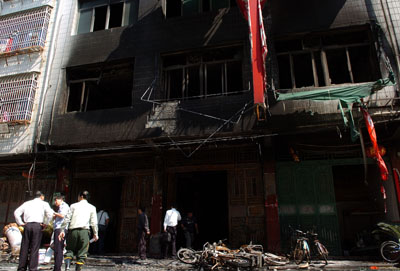 Workers investigate the shoe factory where a fire has killed 37 in Putian, East China's Fujian Province on October 22, 2007. [Xinhua]
The blaze broke out at 9:50 pm on Sunday at the six-story "Feida" factory where shoe uppers were made, in Hushi Township, Xiuyu District, Putian City, Fujian Province. Firemen succeeded in putting the fire out one hour later.
Initial investigations showed 56 workers were working in the factory at the time of the fire, which spread over 520 square meters, Zhu Qing, director of the information office of the Fujian provincial government, said at a news briefing on Monday.
Chen Zongfei, the owner of the factory, and Chen's wife Huang Shubin, the manager of the factory, had been detained by police, Zhu said.
Local government had ordered Chen and Huang in May and September, respectively, to improve the working conditions to meet safety standards, but they failed to do so, Zhu said.
However, Zhu said the workshop was operating with a license, although earlier reports quoting Xiuyu District government said it was an unlicensed one.
The first floor of the factory were used as a storeroom, the second and third floors as workshops, and the top three floors as dining hall and dorms, he said.
All the injured were being treated in two different hospitals, Zhu said, providing no details on their condition.
The whole building sandwiched between two dwelling houses was charred by 3:00 am on Monday. The wreckage of several bicycles and motorcycles lay in front of the building. Six firemen arrived to clean up the site.
The nearby buildings and residents were not affected, sources and witnesses said.
"It was so horrible," said a local resident surnamed Zhu who witnessed the blaze.
The man looked out of his window after hearing a series of explosions and found the workshop ablaze. "It was terrifying to see the fire grow bigger and bigger with flames leaping out of the windows," he said..
A working group led by Liang Jiakun, deputy director of the State Administration of Work Safety, had arrived at Putian to investigate the accident.
Local authorities are continuing the investigations.