BEIJING -- Hu Anmei still remembers her tough journey to Beijing five years ago. To attend the 16th National Congress of the Communist Party of China (CPC), the delegate set out from her remote village in Central Hubei Province, tramped over mountains, took a bus to city, and finally went on a train to Beijing. The whole journey took five days.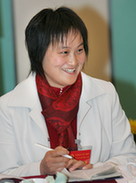 Hu Anmei
Now, thanks to a concrete road built at the beginning of this year which linked Hu's mountain-locked village to the outside world, her journey to the upcoming 17th CPC National Congress, slated to open on Monday, was shortened by two days.
When Hu, a primary school teacher in the village of Taoyuangou, Shiyan City, was elected Party Congress delegate five years ago for her contribution to rural education, the village with only 701 residents in 183 families had no access to highways or telephone lines. Most houses were thatched or built with flagstones and no villager had any household electric appliance.
Now, each household in the village has access to tap water and electricity. Thatched cottages have been replaced by brick houses. The per capita annual income rose from 1,239 yuan (US$165) in 2002 to 1,700 yuan (US$227) in 2006.
"The changes in my village show that we are on the way to realize our dream," Hu said.
"When my fellow villagers can live a cozy life like people in cities in the moderately prosperous society, I'll feel contented," Hu said.
China has scored glaring economic gains since the reform and opening drive launched three decades ago, but the countryside lags behind, causing concerns that the urban and rural gap might undermine social harmony.
To narrow the gap has been on the top agenda of the Party and government in recent years, and observers believe it will remain an important mission for the Party after its 17th National Congress, which will charter the development roadmap of the country for the following years.
To reduce financial burdens on farmers, the government has abolished the 2,600-year-old agricultural tax, exempted rural students from tuition fees for nine years of compulsory education and introduced a medical care scheme, under which the government helps fund farmers' medical expenses.
"Without the central authorities' policies that bring benefits to farmers, I would still live in a thatched cottage," said Wei Yongming, a villager in Taoyuangou.
From 2002 to 2006, the per capita income of Chinese farmers has risen by an annual average of 6.2 percent. For the first time since 1985, the growth rate has exceeded 6 percent for three straight years.
But the urban-rural gap is still widening. The income of urban residents in 2006 was 3.28 times that of rural ones, up from 3.22 in 2005 and 3.21 in 2004. "Farmers have been getting rich fairly fast, yet still more slowly than urban dwellers," said Vice- Minister of Agriculture Yin Chengjie.