BEIJING -- The Internet has been extending fairly rapidly in China's rural areas, with the number of rural net users reaching 37.41 million by the end of June, approximately 5.1 percent of the total of rural population.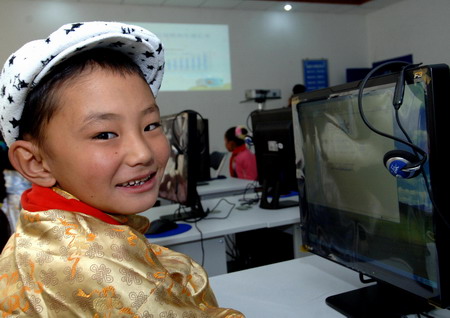 A Tibetan boy poses in a web cafe in Lhasa, Tibet Autonomous Region September 15, 2007. [Xinhua]
Statistics from the National Development and Reform Commission (NDRC) show that at the same time urban netizens had reached 125 million, or 21.6 percent of urban population.
China's rural net users were 23.1 million at the end of 2006, indicating that in six months 14.3 million farmers newly got access to the Internet.
NDRC's report said the rapidly improving telecommunications infrastructure in rural areas has obviously facilitated the increase of net users. In its 11th Five-Year Program (2006-2010), the Ministry of Information Industry vowed to extend phone service to every village and enable every township to have access to Internet.
The main force of rural net users are young farmers and migrant workers, who can use computers to enjoy on-line music, games and videos as skillfully as urban users. However, rural net users rarely use the Internet for news, on-line shopping, on-line banking and trading stocks.
In some rural areas, the Internet has been used for special purposes featuring agricultural information and technologies and price information of farm produce, among others.
Liu Manqiang, deputy director of the Information Research Center under the Chinese Academy of Social Sciences, said that "information communication can bring about huge added value, an important goal of the country's information drive is to enable more farmers to benefit from the development of information industry."