Negotiators at the Six-Party Talks on the Korean Peninsula nuclear issue reached a tentative agreement on denuclearization as the talks went into a two-day recess yesterday.
Negotiators at the Six-Party Talks on the Korean Peninsula nuclear issue reached a tentative agreement as the talks went into a two-day recess.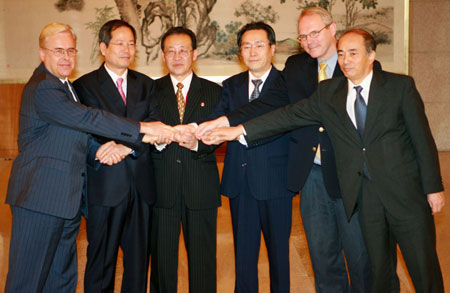 Chief delegates to the Six-Party Talks pose for a group picture on September 30. From left: Alexander Losyukov from Russia, Chun Yung-woo from the ROK, Kim Kye-gwan from the DPRK, Wu Dawei from China, Christopher Hill from the United States and Kenichiro Sasae from Japan. [Xinhua] 
Details of the agreement will be made public after it receives approval by the concerned governments.
The latest session of the multilateral talks, which opened on Thursday, aimed to work out a roadmap for the Democratic People's Republic of Korea (DPRK) to declare and disable its nuclear programs in line with a February 13 agreement reached by China, the United States, the DPRK, the Republic of Korea, Russia and Japan in exchange for 1 million tons of heavy fuel oil, or the equivalent in economic aid.
Vice-Foreign Minister Wu Dawei, who is also the chief Chinese delegate, reading a statement at the Diaoyutai State Guesthouse in Beijing yesterday, said the negotiators had "meaningful discussions" over the four days, and will release a final version of a joint document as soon as possible.
The draft "lays out an entire roadmap until the end of the year" for the DPRK's nuclear disablement, US Assistant Secretary of State Christopher Hill, also the top US negotiator, told reporters yesterday before returning to his country.
"We're into the nuts and bolts now of implementing denuclearization," Hill said. The level of details, he said, made it necessary for him to return to Washington for consultations.
Though Hill declined to disclose details and the draft was not released, the ROK nuclear envoy Chun Yung-woo said the proposed blueprint set some deadlines for Pyongyang and for the other parties to meet.
"The document outlines a timeframe on what the DPRK needs to do in terms of its disabling duties," Chun said at the close of the talks. "The text clearly states that it will be completed by December 31."
While the US also restated its intention to eventually remove the DPRK from a list of countries that sponsor terrorism, the draft did not set a deadline, Chun said.
Envoys described the meeting as a step forward. "Many countries exerted the spirit of compromise," Chun said.
Hill said: "Frankly, of all the six-party meetings, this was the least stressful in terms of coming up with common positions."
Agencies contribute to the story.