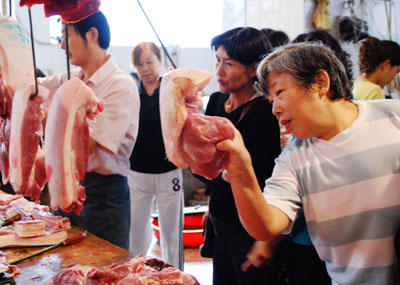 Consumers shop for pork at a market in Yunyang County, Southwest China's Chongqing Municipality, September 14, 2007. [newsphoto]
China's top economic planner has ordered a suspension in government orchestrated price hikes in the latest efforts to keep inflation in check.
"In principle, there will be no new price-raising measures by the government this year," the National Development and Reform Commission (NDRC) said in a notice, co-signed by five other agencies including Ministry of Commerce and Ministry of Finance, published on its website on Wednesday.
An approval from the NDRC is needed if any local government feels it has to increase prices on certain products "under special conditions", according to the notice.
The order applies only to prices under government control, such as gas, oil, water, electricity, and other prices of crucial goods and services that affects the livelihood of the public, including public fares.
Although the government has no control over most of the prices in China, this price control measure will help prevent a hike in firms' costs, thereby eliminating part of the pressure for further price increases.
The NDRC also ordered a close monitoring of prices and a crackdown on price manipulation, collaboration of price increases and hoarding.
The notice came after the Consumer Price Index (CPI) jumped to an 11-year-high of 6.5 percent year-on-year in August, driven by an 18.2 percent rise in food prices.
The surge in food prices makes the lives of low-income earners more difficult as food accounts for a major part of their spending. In response, the central and local governments have increased subsidies for this group.
The measure came also in the run-up to the Mid-Autumn Festival, one of the most import festivals in China, and the week-long National Day holiday which falls on October 1-7.
In an effort to fight inflation, the central bank has raised the interest rates five times so far this year. However, it may take more time for inflation to ease as the food price increases were a result of an imbalance in supply and demand, analysts said.
Several governmental agencies conceded that the CPI growth in 2007 might exceed the official target of three percent.