Hangzhou - East China is on high alert as severe typhoon Wipha, which was upgraded from a regular typhoon on Monday afternoon, approaches its coastal areas.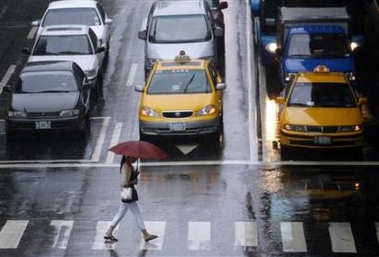 A pedestrian crosses a road during Typhoon Wipha in Taipei, September 18, 2007. [AP]
Shanghai and the provinces of Zhejiang and Fujian are preparing to face the full brunt of Wipha, with the Shanghai meteorological observatory warning that it could cause "the worst damage in recent years".
About 200,000 people living in exposed areas in Shanghai would be moved to temporary shelters before evening when Typhoon Wipha is expected to make landfall after swiping the island of
Taiwan
.
Schools, offices and markets were closed on the northern part of Taiwan where it has been raining steadily since late Monday.
The Zhejiang and Fujian weather bureaus have both issued warnings and recalled all vessels. A senior official with the Zhejiang Maritime Safety Administration said Wipha would hit the province directly.
"The impact and damage from Wipha could be extraordinary, and gales and waves caused by it could be the strongest this year," the official said.
Wipha, packing winds of up to 183 kilometers per hour, is heading northwest at a speed of 20 kilometers per hour, said the Zhejiang meteorological observatory at 6 pm on Monday.
At 6:00 pm, its center was located about 750 kilometers southeast of Jiaojiang, Taizhou, in Zhejiang.
The Zhejiang flood control headquarters believe Wipha could develop into a super typhoon as it was still gathering strength on Monday evening.
It is very likely to hit the southern areas between Cangnan and Xiangshan on the Zhejiang coast late Tuesday or early Wednesday, then strike Wenzhou, Taizhou, Jinhua and a few other cities the Zhejiang observatory said.
But it did not exclude the possibility Wipha could skirt the coast without making a landfall.
If the typhoon makes a landfall, it is expected to cause great losses to Zhejiang, said Mao Linsheng, vice governor of Zhejiang.
Mao warned local authorities against strong winds, heavy rain, landslides and especially flooding in cities.
The Zhejiang provincial flood control headquarters has issued a warning to the public and told local authorities to prepare to relocate residents, patrol reservoirs and brace for geological disasters.
The provincial government has also ordered local authorities to store food and water.
Zhejiang-registered fishing vessels have received orders to return to harbor. Nearly 30,000 fishing vessels had returned by Monday afternoon.
A three-month fishing ban on the east China sea ended only on Sunday.
Passenger ferries between Zhejiang's islands and the mainland have been suspended.
The Fujian provincial government also issued a warning against the typhoon on Monday afternoon.
The Taiwan authorities have issued both sea and land warnings for the typhoon. The meteorological stations in Shanghai and Fujian have also issued typhoon warnings, requiring all vessels to return to shore or alter their course to avoid it.
China Meteorological Administration activated its emergency response system for typhoon on Monday, demanding meteorological bureaus in Shanghai, Zhejiang and Jiangsu and related departments of the administration to monitor Wipha around the clock.
The National Meteorological Center was ordered to report the location of Wipha and forecast every one hour and consult with provincial meteorological bureaus every three hours.
China Meteorological Administration has also dispatched work groups to related provinces.
Typhoons regularly hit China, the Philippines and Japan in the summer season, gathering strength from the warm waters of the Pacific or the South China Sea before weakening over land.