China's equivalent of the American Thanksgiving holiday, the Mid-Autumn Festival could be this country's happiest holiday. Like Thanksgiving, it is a time when people reunite with their families, to be with loved ones and celebrate the year's harvest. In China, people come together and enjoy a feast of mooncakes.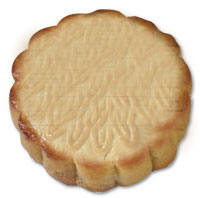 Like most Chinese holidays, the mid-autumn festival is rich in oral history and legend. The most popular version is one surrounding the "lady living in the moon" that dates back to ancient times, when ten suns appeared at the same time in the sky. The Emperor ordered Hou Yi, a famous archer, to shoot down the nine extra suns. The Goddess of Western Heaven later rewarded the archer with an elixir that would make him immortal. But it was taken by his beautiful wife Chang E, who became lighter, and floated up into the moon. Even today, Chinese like to think of the moon as home of Chang E and her beauty is greatest on the day of the festival, when the moon itself appears full, bright and round.
Many other myths surround mooncakes and one such tale features their role in the overthrow of the Mongolian leaders of the Yuan Dynasty (1271-1368). Mooncakes containing messages outlining the planned rebellion were distributed and the attack was carried out on the night of the Moon Festival.
Today, the festival is a time for family reunion, to come together, to eat mooncakes and perhaps catch a glimpse of Chang E dancing on the silver orb in the sky.
(China Daily 09/12/2007 page4)