A rare bronze horse head plundered by British and French troops from the Yuanmingyuan (old Summer Palace) will go under the hammer next month.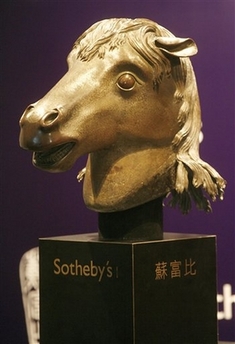 A Bronze Horse Head made for the zodiac fountain of the old Summer Palace but plundered by British and French troops during the Qing dynasty is displayed during a press preview in Hong Kong, Sept. 5, 2007. [AP]
The bid price for the horse head is likely to reach $10 million, a move that is stirring nationalist feelings in China, industry insiders said. Some argue that looted objects should be recovered according to international law.
The statue, which belongs to a Taiwan collector, is one of 12 bronze heads of zodiac animals which graced a water-clock fountain in the palace, which was destroyed by the British and the French in 1860.
The head, billed as "rare and magnificent" with details such as a flowing mane, is expected to be the star of Sotheby's autumn auction in Hong Kong, which starts on October 9.
But experts at Sotheby's concede the sale of the looted treasure might stir indignation and nationalist feelings in China.
"I'm sure there'll be a lot of that (patriotic feelings) within China itself... but I do not believe this time round the outcry will be as severe," said Kevin Ching, Sotheby's chief executive officer for Asia.
"Whereas these animal heads are unique, so they stand out and therefore are more easily identifiable as a symbol of patriotism and a symbol of the weakness of the 'Manchu empire'," Ching added, referring to China's northern rulers at the time.
China's growing affluence and ranks of antique collectors keen to buy back their historical heritage suggests the likely buyer would be Chinese, Ching said.
Currently, the whereabouts of only seven heads are known including four - the tiger, monkey, ox and boar - which are on display at a museum in Beijing.
The rat and rabbit remain in a private European collection.
(China Daily 09/08/2007 page1)