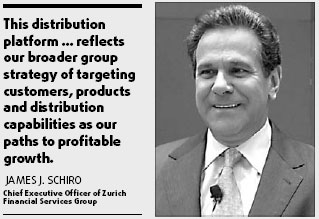 Zurich Financial Services Group, a Swiss insurance company, is striving to broaden its insurance distribution channels in China by acquiring an almost 25 percent stake in a domestic insurance brokerage company.
The new brokerage firm, named Zurich Insurance Brokers (Beijing) Ltd, was formerly Harmonious Insurance Brokers Co, a nationally licensed Chinese insurance brokerage company based in Beijing.
"This distribution platform marks a further important step in our long-term approach to the Chinese market, and reflects our broader group strategy of targeting customers, products and distribution capabilities as our paths to profitable growth," James J. Schiro, Zurich's Chief Executive Officer, said.
He will formally serve as a mentor to the world's brightest young business leaders at the World Economic Forum (WEF) New Champions 2007.
The acquisition, which was finished earlier this year and has just received full regulatory approval, will provide Zurich and its business partners with a multi-channel distribution platform capable of delivering general and life insurance products.
Currently, Zurich has a 20 percent stake in New China Life, becoming the second largest shareholder of the country's fourth largest life insurer. Meanwhile, it received approval from the regulatory authority last year to run a property and casualty branch in Beijing, becoming the first foreign insurer to establish a general insurance branch in the capital.
When asked if Zurich will also consider extending its business into pension, enterprises annuity and asset management business, Johnny Chen, CEO of Zurich Greater China / Southeast Asia) said the company's business focus in China is only on insurance, both life insurance and general insurance.
"A key component for our global success is our dedication to knowledge sharing in local markets," Chen said.
"The new platform will not only enlarge our presence in the Chinese market, but will also allow us to transfer Zurich Group's proven know-how and distribution capabilities to the local sales force."
According to Schiro, Zurich's strategy in China became more focused after 2005, as demonstrated by the growth of its employees and business.
Zurich Financial has more than 100 employees in China compared with three just two years ago. However, it does not expect the Chinese mainland to contribute significantly to the group's earnings for the foreseeable future.
Schiro said the biggest challenge in the China market was to trawl through the business opportunities in the country, and choose the right ones.
(China Daily 09/07/2007 page38)