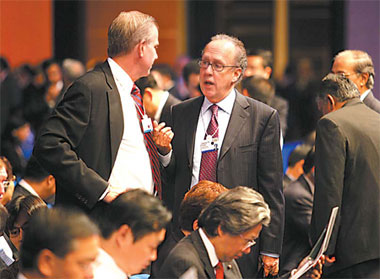 Stephen Roach (right), chief economist at Morgan Stanley, swaps notes with another Summer Davos attendee. Wu Zhiyi
Sinorail Bohai Train Ferry Co Ltd, the country's leading train ferry firm, plans an initial public offering.
Chi Baozhang, general manager of Sinorail, which has been in operation for less than a year, said this on the sidelines of the Inaugural Annual Meeting of New Champions of the World Economic Forum.
He said his company is still undecided on whether to float shares at a domestic bourse or an overseas one, but an overseas IPO could take place in three years.
The company has booked sales of about 200 million yuan since the start of operations in November. It operates the country's first train ferry route across the Bohai Sea, connecting Dalian in Liaoning Province and Yantai in Shandong Province. The entire route spans about 159 km.
Before this service, traffic from Northeast China would reach East China via a 1,000-km route.
"There are frequent economic and personnel exchanges between Northeast China and Shandong, Jiangsu and Zhejiang," said Chi. "The train ferry route has opened up a shortcut between the two regions."
The new company, which operates two ferryboats across the sea, plans to double its freight by 2010, Chi said. By then, the company will have a one-way transportation capability of 5.5 million tons.
A long-term development goal is to have eight vessels on the sea by 2020. For now, Chi said, the company hopes to expand its business from sole cargo to passengers.
The third ferryboat, which is expected to be put into use by the end of this year, has been incorporated with facilities catering to passengers.
Chi said that compared with other passenger ferryboats on one of the most treacherous seas, Sinorail's vessels have more safety and service edges.
Special clapboard cuts the water out once a compartment is flooded while fin-like structures have been installed on both sides of the boats to maintain balance on choppy waters, he said.
"We strictly follow the rules; we suspend services when the wind scale crosses 8. Not a single safety problem has occurred so far. Our vessels are more spacious; we have cinema, bars and shopping malls on board for passengers to while away their time on the five-and-a-half-hour journey."
Chi also said the company is carrying out an ambitious plan to become a logistics giant. "The ferry is just part of the chain. What we are trying to do is carry goods from the manufacturers directly to the buyers' storage. Crossing the sea is the most difficult part and we have achieved it."
(China Daily 09/07/2007 page14)