CANBERRA -- Visiting Chinese President Hu Jintao said here Tuesday that China-Australia relations have maintained a sound momentum of development in recent years.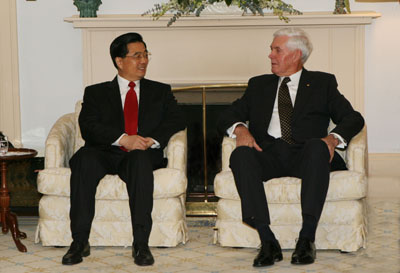 President Hu Jintao (L) meets with Australian Governor-General Michael Jeffery (R) at Government House in Canberra September 4, 2007. [Xinhua]
Political mutual trust has been enhanced and mutually beneficial cooperation in trade and economy and other areas has been fruitful, Hu said during a meeting with Australian Governor-General Michael Jeffery.
This year marks the 35th anniversary of the establishment of diplomatic ties between the two countries.
"China-Australia relations have set a good example for countries with different social systems to live together in amity and embark on mutually beneficial cooperation," he said.
The cause of promoting bilateral ties enjoys a solid political foundation, deep popular support and huge potentials, the president said.
The frequent exchanges of highest-level visits has provided a strong impetus for the development of Australia-China relations. The two countries are enjoying rapidly growing bilateral trade, ever closer energy cooperation and increased education cooperation, Jeffery said.
Both countries advocate maintaining world peace and oppose war, and have kept close communication and coordination in international affairs, he said.
He also hoped the two sides would strengthen research and cooperation in agriculture and clean energy.
Before his arrival in Canberra, Hu visited Perth, capital of Western Australia.
During his stay in Australia's resource-rich state, the Chinese president heard presentations by executives of renowned Australian enterprises and research institutes, watched a three-dimensional show of geological modeling on mining and exploration, and visited two laboratories. All the institutions have long-term cooperation with relevant Chinese agencies and enterprises.
At a facility of HIsmelt, a joint venture with investment from Australia, the United States, Japan and China, Hu viewed smelting operations.
In recent years, cooperation between the two countries has been expanding steadily, particularly in mining, infrastructure, energy and environmental protection.
China is now the second largest trading partner of Australia, while Australia is China's ninth. In 2006, bilateral trade amounted to US$32.9 billion, up 20 percent from the previous year.
In the first half of 2007, bilateral trade reached 19.5 billion dollars, a 35 percent increase over the corresponding period of 2006.
After his state visit to Australia, Hu will attend the economic leaders' meeting of the Asia-Pacific Economic Cooperation (APEC) forum in Sydney on Sept. 8-9.