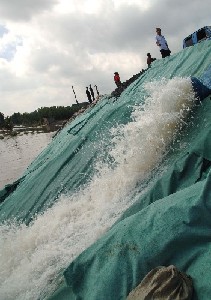 People watch as water is pumped out of a flooded shaft at Huayuan Coal Mine into the Wenhe River in East China's Shandong Province on August 21, 2007. [Xinhua] 
XINTAI, Shandong -- Nie Tingbo's small home is crowded with a dozen anguished relatives. No one has touched the bowls of rice and fried vegetables a neighbor brought them for lunch.
Everyone is waiting anxiously for news of the 37-year-old colliery gas detector, who has been trapped with 180 mine workers for almost 100 hours since Friday in two flooded pits of East China's Shandong Province.
Nie's wife, Zhang Rongxia, sits motionless on the edge of her bed, tears streaming down her cheeks. "He left home before midday to take the afternoon shift on Friday," she said. "It had been raining for days and the two bridges over the river close to our home had been submerged."
Zhang had tried to talk her husband out of going to work, but "he always took his job so seriously that he just refused to listen".
An estimated 12.6 million cubic meters of water swept through a 50-meter wide breach in the Wenhe River levee and poured down the Huayuan pit where Nie worked and the adjacent Minggong mine before the breach was blocked early on Sunday.
When the news came in on Saturday, Nie's 68-year-old mother collapsed. She lies on her bed attached to an intravenous glucose drip.
Nie Tingbo is her favorite child and she's been living with the couple for years.
Zhang Rongxia visits the mine authorities every day, hoping to be told the latest progress of the rescue operation. Each time she is disappointed.
"They simply say they are 'working on it' and never tell me how," she said. "I just pray the government will help bring my husband home again. He must not abandon me and the child."
Huangpu Tinghua, deputy general manager of Huayuan Mining Co. Ltd, explained they have to pick their words carefully to avoid hurting the families. "Most of them are not ready to face reality yet."