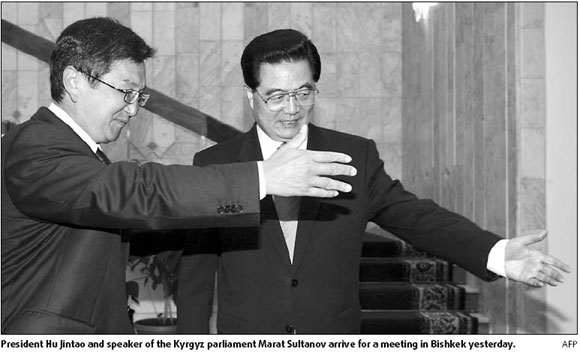 BISHKEK, Kyrgyzstan: President Hu Jintao met the presidents of Iran, Afghanistan, Mongolia, Uzbekistan and Tajikistan on the eve of the seventh Shanghai Cooperation Organization (SCO) summit in Bishkek yesterday.
Hu told Afghan President Hamid Karzai that he wanted China and Afghanistan to be good neighbors, good friends and good partners forever.
"China supports the peaceful reconstruction of Afghanistan and respects the political system and development mode chosen by the Afghan people," Hu said.
China has provided more than 80 million yuan ($10.55 million) in aid to Afghanistan, and Hu said it will continue to work for the successful implementation of some major projects such as Parwan water project and Kabul hospital.
Karzai thanked the Chinese people and government and called for more cooperation between the two countries within the framework of regional organizations such as the SCO and South Asian Association for Regional Cooperation.
"China has always helped Afghanistan establish stability and prosperity. On behalf of the Afghan people, I express my thanks to the government and people of China," Karzai said.
During his talks with Tajik President Emomali Rakhmonov, Hu said the Treaty on Good-Neighborhood and Friendly Cooperation, signed earlier this year by China and Tajikistan, has ushered in a new era in bilateral relations.
"Our two countries have launched a host of projects on transportation and power plants and we should ensure the successful implementation of the projects," Hu said.
President Hu encouraged more economic cooperation between local governments of the two countries and urged more Chinese entrepreneurs to invest in Tajikistan.
Rakhmonov spoke highly of Sino-Tajik joint projects, saying he hoped to have more cooperation in infrastructure construction.
China and Tajikistan share a more than 45-km long border and have agreed to make it a bridge for communication between their peoples.
The trade volume between China and Tajikistan reached $324 million last year, up 105 percent over 2005.
China will continue to strengthen its cooperation with Tajikistan in fighting terrorism and drug trafficking and bringing peace and development to the region, Hu said.
Last September, the two countries conducted a two-day joint military exercise, "Coodination 2006" at Kulyab in Tajikistan. More than 300 Tajik troops and a reinforced company of over 150 Chinese personnel took part in the drill.
The anti-terror drill was aimed at using joint military strength to search and destroy terrorist organizations in the mountainous region.
Hu held separate talks with Mongolian President Nambaryn Enkhbayar, Iranian President Mahmoud Ahmadinejad and Uzbek President Islam Karimov, too.
He said China and Uzbekistan are important countries for maintaining regional peace and stability.
"We have made a lot of progress in security cooperation and will continue to strengthen our cooperation in this regard on bilateral level or within the framework of the SCO," Hu said during his meeting with Karimov.
The SCO has six member countries: China, Russia, Kyrgyzstan, Kazakhstan, Tajikistan and Uzbekistan. India, Pakistan, Iran and Mongolia are observer countries.
President Karzai and Turkmenistan President Gurbanguly Berdymukhamedov have been invited as a guests of honor.
(China Daily 08/16/2007 page2)