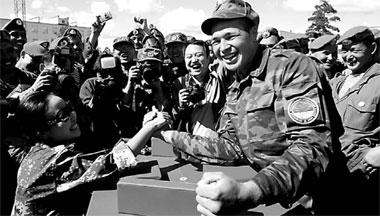 A wrist wrestle between a woman Chinese soldier and a Russian soldier makes a stir at the camp. Zhang Lei
CHELYABINSK, Russia: Zheng Hesong has been a serviceman for eight years and has carried out a lot of missions, but he believes the one he is carrying out in Russia is particularly special.
The non-commissioned officer from a unit in the Xinjiang military region in Northwest China is participating in the "Peace Mission 2007" joint anti-terror military drill - launched by the six Shanghai Cooperation Organization (SCO) countries in Russia's Urals Mountains.
"The task for me and my colleagues is to provide guarantees for our soldiers and officers in their training and life here," says Zheng, 26, who is responsible for the logistic support for Chinese troops. "Since we moved in the camp on August 3, everything has run smoothly thanks to the assistance of our Russian counterparts."
The camp that Zheng describes is a 2-square-kilometre field camp that lies in the town of Chebarkul, about 80 kilometers west of Chelyabinsk, in Russia's Volga-Urals Military District. Troops from China, Russia, Tajikstan, Kyrgyzstan, Kazakhstan and Uzebekstan are there to participate in the largest-ever joint military exercises within the SCO.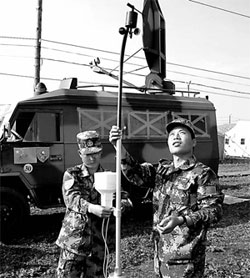 Two Chinese soldiers collect meteorological data. Le Tian
National flags of the six countries flutter around the compound, where more than 900 Chinese army troops and airborne units are living and 16 soldiers share a tent. Sign boards put up at regular stops read in both Russian and Chinese "to consolidate the brotherly friendship".
Language differences are not an obstacle in communication here, even though they do pose a challenge for Zheng and his colleagues from time to time. They have to work every day with their Russian counterparts to arrange food and drinks as well as matters concerning the facilities for the Chinese troops. Interpreters are not always available.
"When we can't communicate through language, we use gestures or other body languages to make ourselves understood," says Zheng. "Like me, most of these soldiers are abroad for the first time. Everything seems new for us. So many offer to take photos with Russian soldiers, who always give a warm response."
"Chinese soldiers impress me, they are disciplined and well trained," a Russian soldier tells reporters through an interpreter. "We live and work harmoniously."
According to Zheng, life is easy here thanks to the considerate arrangement of the Russian military. It has all that a regular military barrack has. Washrooms and bathrooms are fueled by solar power. Temporary hospitals are there to serve. Phone connections between tents, public phone booths and even soft drink vending machines are also available.
During the day, the camp will become nearly empty as most of the troops go out for training at the drill site, around 17 kilometers away from the camp in the range of the Russian Army's 34th Motorized Rifle Division. Only a handful of those guards and chefs remain.
The Chinese troops begin training at around 8:30 am every day and return after 5 pm. Some units finish up even later.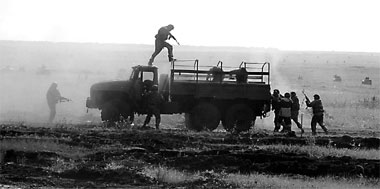 Chinese soldiers train at the drill site. Le Tian
In the evenings after supper, the camp is alive again. Some soldiers do laundry; a few entertain themselves by playing chess; many choose to practice such simple Russian words and expressions as "Thank you", "Please do me a favor", and "How are you doing?" from a brochure.
Some Russian and Chinese cultural performance groups visited the camp to perform traditional Chinese or Russian songs and dances for the soldiers and officers.
The campground becomes quiet at 11:30 pm, the power is off and the officers and soldiers go to bed.
Li Fajun, who is responsible for meteorological support for the Chinese commanding department for the drill, says life is convenient here in the camp.
"We are served four dishes and one hot soup every meal and all are of Chinese cuisine," Li says.
Cooking ingredients are offered by the Russians, while the cooks are from the Chinese army.
The soldiers are frustrated only by mosquitoes, although repellants are used every night before bedtime, according to Li.
What's more, temperatures rise and fall dramatically between the morning and the night. The thermometer can climb over 40 C at noon and the air inside the tent is stifling. At night, the temperature sometimes falls to near 0 C and the Chinese troops have only blankets to ward off the cold.
"Despite that, everybody is in high spirits and is gearing up for the war games," Li says.
Altogether 1,600 Chinese troops will take part in the joint exercise held on August 9-17 in two locations - Urumqi, capital of Northwest China's Xinjiang Uygur Autonomous Region and Chelyabinsk of Russia. It aims to explore ways of combating terrorism, separatism and extremism. Heads of SCO member countries and their defense ministers will watch the final phase of the joint military exercises on August 17, along with foreign military attaches posted in Russia.
The exercise will also involve 2,000 Russian soldiers, plus an unspecified number of Russian logistics-support units. Kazakhstan and Tajikistan will contribute one airborne company each. Kyrgyzstan and Uzbekistan will send an airborne platoon and staff officers respectively.
(China Daily 08/15/2007 page20)