When China opened up to the world over 20 years ago, Wei Jianhua joined the Communist Party of China (CPC) because of its social ideals. A decade later, she became the owner of a chemical manufacturing corporation – a private enterprise.
At the end of last year, more than 2.86 million party members work in privately owned enterprises, including 810,000 running their own businesses, shows figures released by the Organization Department of the CPC Central Committee.
Party members going into private businesses, especially those who left state-owned enterprises and government positions once became a national hot topic starting from the early 1990s when the country deepened development towards the market-oriented economic system.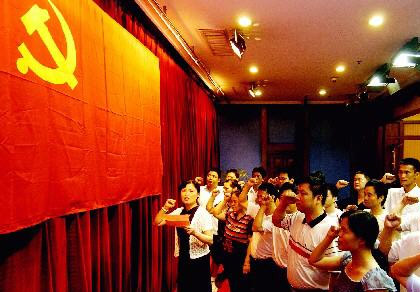 A hundred private owners swear to join the Communist Party of China in Fuzhou, Southeast China's Fujian Province, June 29, 2007. [Xinhua]
"As the new generation of party members, we are largely open-minded and deal with practical matters while doing our job," said Wei, who used to work in a national science institution. She finally left the agency which only cared about the number of technical essays published by its researchers in hopes that the scientific research results could be more quickly put to use in manufacturing.
Wei founded her own company with 10,000 yuan in 1993, which has now developed into a group of companies with a total of 100-million-yuan annual sales volume and 320 employees.
The businesswoman's conversion has led to a fresh interpretation of socialism with Chinese characteristics. The CPC's constitution states that human society should eliminate the exploitation of the labor class, and calls on party members to establish businesses that are owned by all citizens or a collective of people.
But for Wei and many other Communist entrepreneurs, serving the people and country could be practiced in other ways.
"I believe the key issue is how to properly allocate profits to benefit the society," Wei said. "My company didn't receive a single penny from the government, but provides job opportunities and products. And we're committed in shouldering social responsibilities."
During the 2003 SARS crisis, Wei's company cancelled orders from outside of Beijing to guarantee a sufficient supply of disinfectants and hand sanitizers in the epidemic-plagued capital. And unlike vendors who hiked prices of these products, Wei used the "buy one, get two free" method to bring down prices.
"I feel I'm not a pure businessperson. When commercial interests conflict with social duties, I'll definitely place responsibilities ahead," Wei explained. "It's not just me, actually there are a great number of private business owners who have the same philosophy as me."
Xinhua has reported that about 50 million people have become a "new social class", most of whom own private enterprises. They manage about 10 trillion yuan worth of assets, and pay nearly one third of the country' taxes.
In a 2006 nationwide poll concerning private enterprises, 28.8 percent of surveyed entrepreneurs feel becoming a member of the People's Congress or the People's Political consultative Conference is "the most proud accomplishment".
Although Wei has been running her businesses for more than a decade, she is still reluctant to be called a "private owner". She says it makes her feel as if she oppresses workers.
In the Sixteenth National Conference of the CPC in 2002, private owners and individual entrepreneurs were labeled for the first time as "Builders of Socialism with Chinese Characteristics".
"My heart was moved when I heard the news," Wei recalled. "I immediately felt my life was fulfilled."