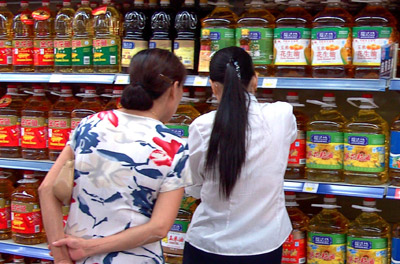 Consumers shop at a super market in Yichang, Central China's Hubei Province August 5, 2007. [newsphoto]
China's consumer price index (CPI) is expected to grow less than 4 percent for 2007 as food price increases are likely to ease in coming months, a statistics official said.
Yao Jingyuan, chief economist of the National Bureau of Statistics, said China had sufficient supplies of all food except pork, meaning overall food prices would not run out of control, Xinhua reported.
Annual consumer inflation hit a 33-month high of 4.4 percent in June as food prices rose 11.3 percent, triggering widespread concerns about inflation.
In the latest effort to ease those worries, Premier Wen Jiabao visited a meat and vegetable wholesale market in Beijing on Saturday and promised that the world's fourth-largest economy would be able to stabilize food prices.
Fan Jianping, a senior analyst at the State Information Centre, a key government think-tank, said separately that inflation was within a controllable range.
The central government actually welcomed price rises for agricultural products because it would boost farmers' incomes, a political priority for the leadership, Fan was cited by the China Securities Journal as saying.
He said that the main challenge for authorities was to contain rapidly-rising asset prices, adding that he thought both the main stock index and housing prices would keep rising in the second half.
Fan also forecast that economic growth would slow a notch in the second half as tightening policies introduced so far began to take hold.
But the economy could still expand by 11.3 percent for the whole year on the back of rapid fixed-asset investment growth induced by high returns and excess liquidity, he said. The economy grew at an 11.5 percent pace in the first half.
China has increased the proportion of deposits banks have to hold in reserve six times this year in order to keep a lid on cash in the banking sector. It has also raised interest rates three times this year.
But those efforts have not been effective enough in soaking up excess liquidity, said Xia Bin, a senior analyst with the Development Research Centre, a cabinet think-tank.
Only when commercial banks started to sell off their central bank bills to get more operating cash would it be a sign that they had started to feel a liquidity pinch, Xia said.
He said that the central bank would further increase interest rates in the future to reduce companies' incentive to borrow.