China strengthening food rules
(AP)
Updated: 2007-07-25 22:06
China announced Wednesday that it is strengthening its food safety regulations in the wake of discoveries of toxic chemicals that prompted a slew of international bans and recalls on its exports.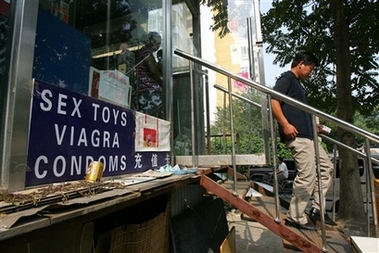 A man emerges after buying a pack of cigarettes at a store that also offers viagra in Beijing, China, in this July 2, 2007 file photo. Chinese police have cracked four criminal networks that made fake Viagra, Tamiflu and anti-malaria drugs and sold them within China and to customers in Southeast Asia, the United States and Europe. [AP]
China also announced that it had busted criminal networks that made fake bird flu medicine, anti-malaria drugs, Viagra and toothpaste.
The government said on its Web site that the Cabinet had passed a draft regulation that "strictly regulates the activities of producers, strengthens the responsibility of local governments and increases the punishment for illegal activities."
No details were given, but the government said Premier Wen Jiabao attended the State Council meeting, an indication of high-level concern about the problem.
"Product quality and food safety concerns the health and the life of the people, it concerns the trustworthiness of companies and the image of the country," the statement said. "We must attach great importance to the matter."'
The regulation goes into effect after publication by the State Council. The government did not say when that would occur.
The government said the fake-drug rings were busted between August 2005 and May 2006 and involved gangs across the country, two of which sold their products via the Internet or by e-mail, according to the Ministry of Public Security.
The announcement, posted late Tuesday on the government's Web site, did not say what happened to the suspects, if anyone was sickened as a result or why the information was released only now.
A woman who answered the telephone Wednesday at the ministry said the cases were among the 10 largest in a yearlong campaign against counterfeits that began in March 2006.
China recently executed the former head of its food and drug watchdog for approving untested medicine for cash, including an antibiotic that killed at least 10 people.

1
2