Deng Rong: Father would be proud
By Du Wenjuan (chinadaily.com.cn)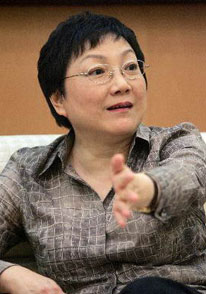 Deng Rong


It is the 10th anniversary of Hong Kong's return to the motherland this year, but it also marks a decade after the passing of China's late leader Deng Xiaoping. His youngest daughter, Deng Rong, recalled his father around the years of Hong Kong's handover during an interview and said her father would be proud of today's Hong Kong, the China News Service (CNS) reported on Sunday.
Close link with Hong Kong
According to his daughter, Deng -- the architect behind "One country, Two systems" --established an especially close relationship with the former British colony his whole life.
"When my father first traveled through Hong Kong on his way to France on a work-study program in 1920, he was a 16 year-old from the north of Sichuan in southwest China," Deng Rong recalled. "And during the revolution years, he passed by Hong Kong several times. But since the founding of New China, he found no chance to go there."
On the issue of Hong Kong, Deng focused a lot of time and energy into finding a solution, and came up with the "One country, Two systems". During negotiations with the British government, Deng was so unexpectedly 'stubborn' to his counterparts that he wouldn't yield about their requests related to China's sovereignty over Hong Kong.
The handover in 1997 was a great event in China's history and it was inseparable with Deng's contributions. "Father read much on Hong Kong to solve the issue and got to know all related political, economic, military, social, legal, geopolitical and diplomatic factors about it through various channels. He read news from foreign agencies and subscribed to many Hong Kong newspapers to get as much information as he could."
"Father would be proud of today's Hong Kong!"
"It was an unfinished aspiration of him to step onto the land of Hong Kong after the handover," Deng Rong's voice choked when talking about his father's wish.
During Deng's second trip to Shenzhen in 1992, he looked over to Hong Kong and told his friends he wished to "walk on our own land" after 1997. It was a relaxed visit compared with a previous trip in 1984 when Shenzhen was only a village starting to open up. His speeches during this famous southern tour then stepped up China's reform process.
"Over the past 10 years, the mainland witnessed fast economic growth and developed a much closer relationship with Hong Kong," said Deng Rong.
Before Hong Kong's return to Chinese rule in 1997, many residents on the territory had a negative attitude towards the polical and social systems on the mainland. They also had a low degree of idendity with the motherland, Deng said.
"There have been great achievements these 10 years. We're proud of Hong Kong and of our motherland too," Deng Rong smiled. "If father were still living, he would feel the same!"
Though he himself didn't realize his last wish, his family helped him carry through the dream. "During China's reform and opening up, Hong Kong has played an important role, not just after the handover, but throughout the whole process. That's also why the special economic zone was put in Shenzhen - to draw on Hong Kong's strengths."
"I love Hong Kong"
"My family and I wish Hong Kong a more successful future and wish all the residents there a happier and healthier life!" exclaimed Deng Rong.