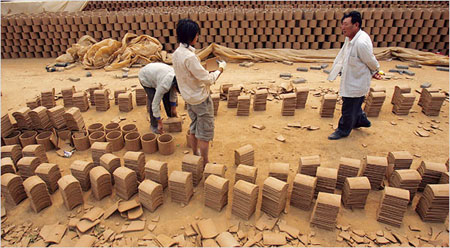 A parent looks for a his lost child at a brick kiln at Liuwu Village in Yuncheng, in China's Shanxi Province June 15, 2007. [AP]


The parents of more than 400 missing children have posted a second joint letter online, urging authorities to step up their efforts to rescue slave workers across the country.

"The slavery case in Hongtong County that caused a great stir in the country is only the tip of the iceberg. Thousands of laborers are still suffering and in pain. Please save our children!" the letter said.

The parents, most of them from Central China's Henan Province, believe their missing children have been abducted or coaxed into child labor in neighboring Shanxi Province, and are therefore in need of rescue.

The Xiaoxiang Morning Post quoted some parents as saying they had seen some of the rescued children on the same buses as their own youngsters, on their way to Shanxi.

In a previous letter sent out earlier this month, one of the parents surnamed Yuan said he received a phone call from his son in May, saying he was being forced to work in a kiln in Shanxi.

The boy said the owner of the brick kiln had said he would release him if his father paid 35,000 yuan ($4,600).

Eight parents said they had been intimidated by kiln owners while looking for their children near Yuncheng in Shanxi.

Local police offered no help, they said.

A police officer with the Shanxi provincial bureau of public security who did not gave his name said some of the owners of illegal kilns might have transferred slave laborers to other places before the police operation. "We will bring them to justice if we have enough evidence," he said.

Li Yingming, a senior official with Hongtong County, where one of the first cases of forced labor was exposed, said only two of the 95 brick kilns in the county had licenses.

And even those might be counterfeit, he said.

After Shanxi Governor Yu Youjun openly criticized his provincial administration for the recent slavery cases at a meeting of the State Council on Wednesday, it yesterday vowed to crack down on such abuses of labor.

It also promised to pay compensation to the victims and ensure they were returned home safely. It will launch a special campaign to examine the recruitment and use of labor in companies throughout the province, especially those in remote rural areas.

As of Tuesday, police in Shanxi and Henan said they had detained more than 130 people suspected of being involved in human trafficking and had freed 591 workers, including 51 children.