Huge algae outbreaks again pose a threat to drinking water supply from Taihu and Chaohu, two of China's major freshwater lakes.

Satellite pictures showed blue-green algae covering about a third of both lakes in the country's densely populated east, according to the National Satellite Meteorological Center.

In the 2,400-sq-km Taihu Lake, the country's third largest freshwater lake on the border of Jiangsu and Zhejiang provinces, about 800 sq km is covered with the fast-growing and foul-smelling green plant.

A large outbreak a few weeks ago contaminated the lake and resulted in the shutdown of tap water to about 2 million residents in Wuxi, Jiangsu Province.

But the latest outbreak has not affected drinking water safety because the algae is found far from the water intake points, said Li Jianqiu, a spokesman with Wuxi utilities bureau.

The nearby city of Changzhou, which uses the Yangtze River as its water source, has also not been affected, said a government spokesperson.

In the 780-sq-km Chaohu Lake in Anhui, China's fifth largest freshwater lake, 280 sq km is carpeted by algae.

Last week, the satellite monitoring system showed that patches of algae had spread over 40 sq km in the lake, a source of drinking water for some 260,000 people.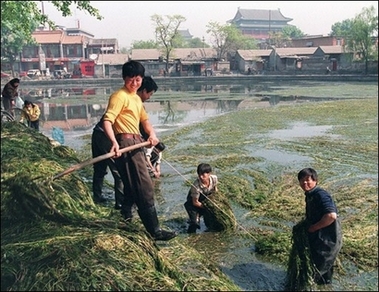 File photo shows that workers remove algae in a Beijing lake.[AFP]

Zhang Zhiyuan, a spokesman for the Anhui provincial environmental protection bureau, said the situation was being closely watched.

He said the water from the Yangtze River will be diverted to the lake to improve water quality.

Zhang Bangguo, an expert with the Chaohu bureau of environmental protection, said excessive nutrients in the lake, including nitrogen and phosphate from fertilizers, industrial runoff and untreated sewage, as well as high temperatures, have provided good conditions for the algae bloom.

"A large algae bloom can break out any time given suitable sunlight and temperature," Zhang said.

"Once the conditions for algae growth are ripe, it's very difficult to effectively control it in the short term," Li Yucheng, a professor at Anhui University's School of Life Sciences, was quoted as saying yesterday by the Workers' Daily.

"Relief measures can only reduce the harm from an outbreak to a minimum but cannot solve the problem totally."

(China Daily 06/18/2007 page1)