BEIJING - China's environmental watchdog ordered factories polluting a scenic lake to stop production Tuesday, following an algae bloom that contaminated the drinking water supply for 2 million people.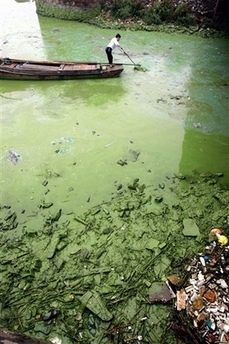 A Chinese man using a net to push aside blue-green algae on Taihu Lake in Wuxi, eastern China's Jiangsu province on Friday, June 1 2007. [AP]


Foul-smelling blue-green algae on Lake Tai last month turned tap water yellow and smelly in Wuxi, a city on the lake. Alarmed residents swarmed stores to stock up on bottled water.
"For those enterprises exceeding emission standards for phosphate and nitrate they have to stop their production immediately," said Zhang Lijun, vice minister of the State Environmental Protection Agency.
Facilities that meet emissions standards may still be allowed to operate depending on the capacity of Lake Tai to handle the discharges, Zhang said. His agency has also asked the Jiangsu provincial government to stop approving new factories that would discharge phosphate and nitrate.
Blue-green algae, a plant-like organism, blooms when nutrients sometimes caused by excessive pollution build up in water. Some algae can produce dangerous toxins and if ingested can cause vomiting, respiratory failure and, on rare occasions, death.
The algae bloom in Lake Tai formed after water levels dropped to their lowest in 50 years because of drought, state media has reported.
Following the outbreak, authorities diverted water from the Yangtze River to dilute the polluted lake. Zhang told reporters the practice would continue.
The algae bloom marked the latest fallout for China from decades of breakneck industrialization and lax enforcement of environmental regulations. Lake Tai, famed for centuries for its beauty, has become one of the country's most notoriously polluted bodies of water and a rallying point for an emerging environmental movement.