The death toll from heavy rains that pelted southern China last week stood at 71 as of Monday evening, with reports of five more people being killed, according to the Ministry of Civil Affairs.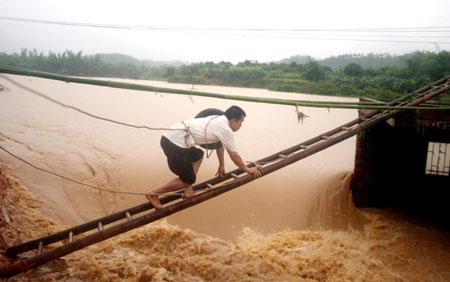 A man climbs a ladder to reach a drainage sluice station in Zi Jin County, South China's Guangdong Province June 10, 2007. It is the worst flood to threaten 15 towns of the county in 50 years. [Xinhua]

"Torrential rains, mud slides and floods triggered by widespread rainstorms have also left 13 people missing, affected about 350,200 hectares of crops, completely destroying 57,600 hectares of them," said an official with the ministry.

The number of houses destroyed by floods has risen to 56,000, with another 104,000 houses damaged in southern China. Some 643,000 people were forced to evacuate from their homes, the official said.

Last week, continuous rainstorms hit Hunan, Guangdong, Guangxi, Guizhou, Jiangxi and Fujian, affecting more than 10.63 million people.

The disasters have caused overall economic losses of more than 3.43 billion yuan (436 million U.S. dollars), half of which was in the agriculture sector, according to the ministry.

The ministry has sent rescue teams to the disaster areas to assist relief work.