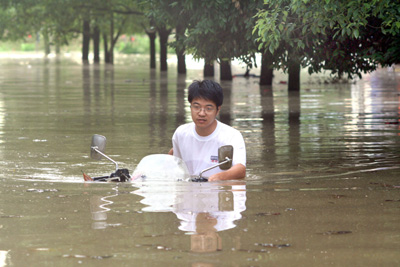 A motorcyclist wades through waist-deep flood waters in Yongzhou, Central China's Hunan Province June 8, 2007. Floods, triggered by heavy rains, ravaged the city. [Xinhua]


Millions of people are suffering and at least 23 have been reported dead as violent rainstorms plague nearly half of the provinces in China.

Relentless rainfall is now in its fourth successive day in central Hunan Province, affecting more than one million people in 11 cities and counties, sources with the provincial government said at a flood control meeting on Saturday.

The rain has left three people dead, one missing and 158,000 homeless, the Ministry of Civil Affairs reported on Friday.

Jingzhou county in the city of Huaihua, one of the worst hit areas, received 146.4 millimeters of rainfall on Friday and Saturday, local authorities said.

The whole province is on alert as the upper reaches of the Xiangjiang River swelled to 106.6 meters on Friday, 4.6 meters above the warning level and the highest in 20 years.

"We have stepped up our guard against flooding as two more heavy rainstorms are forecast over the next four days," said Xie Kangsheng, an official with the Hunan Provincial People's Congress. He said reservoirs on the upper reaches would have to discharge more water as the situation deteriorates.

In south China's Guangdong Province, three people have died in rainstorm-triggered landslides and nearly 300,000 people in nine counties and cities have been affected.

Storms have destroyed 788 houses and drowned 1,120 hectares of cropland in Guangdong, causing direct economic losses of nearly 100 million yuan (13 million U.S. dollars), the provincial government said.

The heavy rain also damaged a railway between Meizhou and Shantou and more than 1,100 passengers were stranded on Friday. The local railway authority had to arrange free bus rides to their destinations.

Another two people died in torrential rains that began to lash the neighboring Guangxi Zhuang Autonomous Region on Wednesday, the drought prevention and drought control headquarters in Nanning said on Saturday.

In Guangxi, the rain affected nearly 500,000 people in 16 counties and destroyed 610 homes.

On Thursday and Friday, when senior high graduates across the country were taking the annual college entrance examination, thousands of candidates in Quanzhou county of Guangxi had to be moved to backup exam centers as heavy rain submerged their classrooms.

The heavy rain also destroyed 29 reservoirs, 362 embankments, 165 roads and forced 59 factories to suspend production, said Chen Rundong, deputy head of the regional flood control office.

Southwest China's Sichuan Province reported seven deaths and nine injuries on Friday in Liangshan Autonomous Prefecture of the Yi nationality after continuous rainfall on Wednesday and Thursday brought hailstorms, lightening strikes and landslides, said a spokesman of the provincial disaster relief office.

In neighboring Guizhou Province, seven people died and four others went missing during rainstorms on Friday and Saturday. Nearly 20,000 hectares of cropland were flooded and 3,000 houses destroyed.

An earlier report said in the Kazak Autonomous Prefecture of Ili, northwestern Xinjiang Uygur Autonomous Region, hailstorms, rainstorms and floods slammed into six towns on Thursday, washing away one farmer while he was herding his flock near a canal.

Experts have also warned of the rising flood alarm in the middle and lower reaches of the Yangtze River this summer.

The Anqing section of the Yangtze in eastern Anhui Province measured 5.06 meters on Friday, at least two meters lower than this time last year, but has been rising by an average of 0.22 meters a day.

Experts say sustained drought is often followed by devastating floods.

The upper reaches of the Yangtze River suffered a severe drought in spring and millions of residents in Chongqing suffered water shortages.