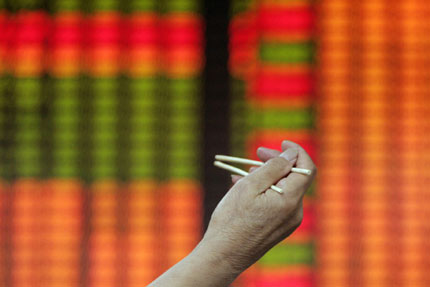 An investor holding a pair of chopsticks has his lunch in front of an electronic board at the stock exchange in Shanghai June 4, 2007. China's main stock index tumbled 8.26 ercent or 330 points on Monday to close at 3670.40, adding to big losses suffered last week after the government hiked the share trading tax to cool speculation. [Reuters]


Chinese stocks continued to tumble on Tuesday morning after Monday's 8.3 percent fall as investors went on a selling spree.

At the end of Tuesday's morning session, the Shanghai Composite Index lost 5.66 percent to 3,462.52, after hitting an intraday low of 3,404.15.

Many analysts believe that China's equity markets are seriously troubled, after an extraordinary bull run in which share prices more than tripled in the last two years.
Special coverage:
Stock Market

Video:
China Raises stamp tax

Related readings:
Stocks rebound from sharp fall
Stocks plummet nearly 7 percent
Greenspan sees dramatic drop in stocks
Investors may be not too crazy after all
Now, there are fears among both government officials and economists that a severe downturn in stock prices can lead to a further rout that would wreak havoc with the finances of ordinary Chinese.
In a move seen as an attempt to restore confidence, China Securities Regulatory Commission (CSRC) has approved four new funds that want to invest in Chinese stocks, earlier report said. Each of the funds would be allowed to raise as much as $1.3 billion for investment in Chinese shares.
"The approval of new funds has sent out a clear signal," said Galaxy Securities chief fund analyst Hu Lifeng, adding controlling the issuance speeds of new fund is an effective measure to adjust capital supply in the market.
When the market is in a downturn, regulators can increase the supply of new funds to hike capital inflow, which in turn stabilize prices and boost market confidence, Hu explained.
As another move to return stability to the market, the CSRC has asked the funds in the country not to engage in rapid buying and selling, but to stick to the principle of value investment.
Tuesday marked the fourth sharp downturn in five sessions since the Ministry of Finance announced the tripling of the stamp tax on stock trading to 0.3 percent last Tuesday night.
The index has lost more than 19 percent from a record high reached May 29, before the duty hike.
Unlike in late February when a nine percent fall in Shanghai sparked a global sell-off, other equity markets ignored the latest turbulence. Shares in Tokyo and Hong Kong closed up on Monday. Stock prices in Europe were modestly lower and in New York, a little higher.
Chinese analysts said this indicates foreign investors have learned how to deal with turmoil in China stocks -- the mainland stock market is isolated from global markets and a downturn is unlikely to cause a wider economic impact.
Foreigners are barred from buying Chinese stocks, except through the Qualified Foreign Institutional Investors program, while domestic investors are largely banned from investing overseas.
Meanwhile, the stock market accounts for only a small portion of China's overall economy, analysts said, thus a spillover from a stock meltdown is limited.