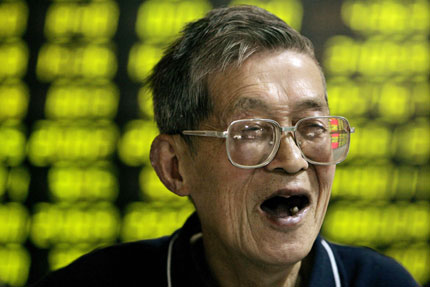 An investor stands in front of an electronic board at the stock exchange market in Shanghai June 4, 2007. China's main stock index tumbled 8.26 ercent or 330 points on Monday to close at 3670.40, adding to big losses suffered last week after the government hiked the share trading tax to cool speculation. [Reuters]


Chinese stocks plunged more than eight percent on Monday as jittery investors dumped shares in worries about further potential governmental moves to dampen the market following a stamp tax hike.

The benchmark Shanghai Composite Index lost 8.26 percent to close at 3,670.41 points, adding to sharp falls last week. That marked the biggest drop since February 27 when the index plummeted 8.84 percent, triggering a global sell-off.
Special coverage:
Stock Market

Video:
China Raises stamp tax

Related readings:
Stocks rebound from sharp fall
Stocks plummet nearly 7 percent
Greenspan sees dramatic drop in stocks
Investors may be not too crazy after all
Only 25 out of more than 1,400 stocks in the Shanghai and Shenzhen stock exchanges rose, while about 800 stocks fell to their daily limit of 10 percent.
Blue chip stocks failed to stay firm and joined the small-capital shares in the plunge, which analysts said further affected investors' confidence.
Sinopec dropped its 10 percent limit to 13.65 yuan, reversing three days of straight rises.
The Industrial and Commercial Bank of China lost 8.10 percent to 4.99 yuan, while Bank of China fell 9.25 percent to 5.10 yuan.
Hundreds of small-capital stocks have declined by their daily limit for four consecutive sessions.
Trading was moderate in both Shanghai and Shenzhen bourses. Turnover in Shanghai was 145.98 billion yuan, down from more than 200 billion yuan in the previous sessions, while volume in Shenzhen stood at 74.36 billion yuan.
The decline came as investors remained jittery about speculation on the collection of capital gains tax and on the abolition of tax on interest accrued from deposits. Taxation officials have rejected the rumor, but that did not seem to reassure the investors.
The Ministry of Finance denied an increase in stamp tax on trading on May 22, but then announced seven days later the tripling of the rate to 0.3 percent from 0.1 percent, triggering a 6.5 percent drop in the Shanghai Composite Index.
China will eventually start to levy capital gains tax on stock trading, said Hu Bing, an official with the China Securities Regulatory Commission Thursday in New York, according to earlier reports.
The lack of the duty lead to a widening of the gap between the rich and the poor, Hu noted. "However, phasing in capital gains tax is a long-term process as it is a major issue that depends on the development of the market."
Some analysts believed the government would not permit the slide to extend and the market is about to rebound.
On Monday, three major securities newspapers carried editorials saying the tax rise was merely aimed at speculators and the market's outlook was still positive, a move widely seen as regulators' attempt to restore confidence into investors.
Investors seemed to have slowed down the pace of opening new share trading accounts. On Friday, about 227,000 A-share accounts were opened after 270,000 ones were added Thursday, down from an average of more than 310,000 in the previous week albeit still at a high level.
However, Thursday saw the number of newly added fund accounts ballooned to 449,000 from about 50,000 on average in the previous week.