Leroy Chiao has sky-high ambitions. He is one of the few people lucky enough to have seen the Earth from outer space. And since he's made four journeys into the velvety black vacuum of the cosmos, the Chinese-American veteran astronaut now finds that few trivial earthly affairs concern him since he saw "so many magnificent views" from extraterrestrial vantage points.
Now, he has loftier goals -- the ultimate of which is to help others realize th
eir dreams of making a journey into the space. And today, he's making progress toward this end.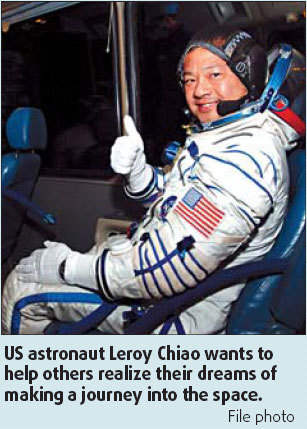 He is running a private space venture with a partner, Chiao told China Daily in an exclusive interview.
Born in California in 1960, Chiao became an astronaut with the National Aeronautics and Space Administration (NASA) in 1990. Between 1994 and 2005, he flew into space four times and boarded the International Space Station (ISS) twice.
After leaving the NASA in 2006, Chiao was hired as a director of Excalibur Almaz Ltd.
The private spaceflight company plans to launch civilian astronauts into orbit for research and tourism. It seeks to market the use of Almaz capsules and space stations developed by Soviet Union during the Cold War.
Chiao is responsible for all operational aspects of spaceflight, including training for both the capsule and space stations.
"We want to have our own spacecraft and space stations shortly," he said.
Chiao believes that the company will not only fulfill the dreams of those who have never been to outer space, but also help him one day realize his own dream of flying to the Moon.
"I am always dreaming of the Moon. But the thing did not go as quickly as I thought," said the space fanatic, who was inspired to become an astronaut upon seeing the TV images of mankind's first moon landing in 1969.
He said that in the future, he plans to make private efforts to realize his dream.
And if it turns out he doesn't get to make this journey in his lifetime, he said, "(At least) I can create a chance for my children to do that."
But Chiao's efforts extend beyond his sky-high ambitions for his company. He also works hard to "be a bridge" between US and Chinese astronauts and space program officials, and hopes to intensify their future cooperation.
"I am trying (to do this) by participating in all kinds of conferences such as this (the 16th Human in Space Symposium of International Academy of Astronautics)," he said.
"(The key to international cooperation is to) spend time understanding the cultures of each country."