From the war on corruption, military spending, global warming to how to further promote socialist democracy, Premier Wen Jiabao paved the way forward for China on Friday. [full text of Wen Jiabao's government work report]
Using part of his nearly two-hour interaction with the press after the end of the annual legislative meeting, the premier had his frank position on the surge in corruption cases in China, blaming the over-concentration of power without effective and proper restraints.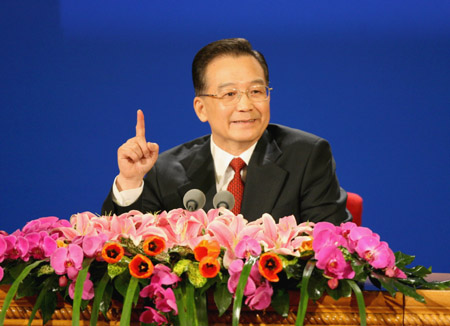 Premier Wen Jiabao gestures during a news conference after the National People's Congress closed its annual session, at the Great Hall of the People in Beijing, March 16, 2007. [Xinhua]


"To address the problem, we must first and foremost focus our efforts in the institutions and systems," Wen said.

The war on corruption will be unrelenting: "No matter in what areas the corruption cases are taking place, who are involved and how high-ranking they are," he said.

He said people were encouraged to "oversee and criticize the government" in building a socialist democracy.

In particular, matters that need the administrative examination and approval must be reduced in number, and they must be done in an "open, just and transparent" manner, he said.

Moving forward, China will focus on political system reform aimed at developing democracy, in addition to advancing economic reform.
Special coverage:
2007 NPC & CPPCC

Related readings:
China, Japan warms up for Premier's April tour
Premier: World shouldn't fear China army
Premier: China aims at mature capital market China aims at mature capital market
Premier: 391.7b yuan to go in for agriculture
China pledges to expand rural medicare system
Premier says golf courses out of bounds
China to increase energy imports
China opposes all forms of secessionist activities
"It is particularly important that we need to make justice the most important value of the socialist system," he said.
Wen said the government will strive to give everyone equal opportunity to education, particularly to improve the living standards for economically disadvantaged groups.
"If we improve the living conditions of those in difficulty, we improve the well-being of the whole society," he said
The premier reassured that the country was advancing along a peaceful development path, with a responsible attitude to the world.
"We are most sincere in our commitment to peaceful development," he said when asked to comment on Chinese scientists' recent anti-satellite test.
The test did not target or pose a threat to any other country and has not breached international treaties, he said.
"China always advocates the peaceful utilization of outer space, and opposes an arms race in outer space," he said.
The nation knows fully well the tremendous sufferings of being enslaved and subject to foreign aggression, the premier said.
"We have a defense policy that is defensive in nature. The limited arm forces that China has are completely for safeguarding the country's security, independence and sovereignty. On this matter, we are completely transparent."
Regarding international environmental obligations, the premier said China is in favor of the Kyoto Protocol. And although as a developing country China had no obligatory target to meet the protocol, nonetheless formulated a response plan based on international treaties concerning greenhouse gas emissions.