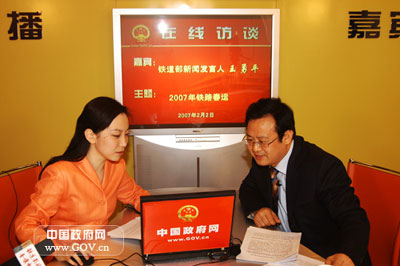 Spokesman of China's Ministry of Railways, Wang Yongping (R), answers questions from netizens about the spring festival travel February 2 on gov.cn. [photo: gov.cn]


It's not the right time to implement the real-name system for train tickets in China, Wang Yongping, spokesman of the Ministry of Railways, told gov.cn - the official web portal of the Central People's Government of the People's Republic of China, CCTV.com reported Friday.
"Many passengers have suggested using a real-name ticket system, but the time isn't right," Wang said during an online communication forum with netizens on February 2 on gov.cn.
"The real-name sytem will be inconvenient for passengers who already have to deal with many procedures during the ticket-buying process, waiting for trains, and getting on and off the trains," Wang said. "The system would also place a heavier workload on railway station staff."

Wang said that on average there are more passengers that travel by train than by plane, and the average passenger flow through the Beijing and Beijing West railway corridor has hit 300,000 per day. The daily traffic during the Spring Festival peaks at about 500,000 passengers.



"With this amount of pressure, the current equipment, facilities, and employees would not be able to successfully implement the real-name system. Most foreign companies have not implemented it either," Wang said.


He also denied that railway staff bonuses are taken from the profits made during the Spring Festival.

He also said that the ministry will permanently maintain the price-freeze it pledged, not just for this year's Spring Festival. The price freeze will also be in effect for China's two golden weeks, the Labor Day holiday and the National Day holiday.
China's Ministry of Railways announced on January 10 train ticket prices will not rise during the Spring Festival season beginning in 2007.
The railway ministry forecast at the end of last year that 156 million people will travel by train during this year's peak travel period, an increase of 4.3 percent from last year.
The peak period runs from February 3 until March 14.