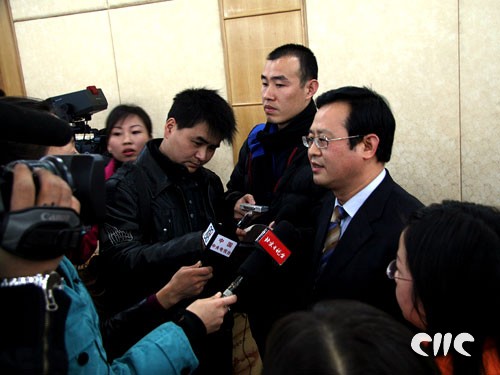 Spokesman of China's Ministry of Railways, Wang Yongping, accepts questions from media after a press conference held by Ministry of Railways on Thursday morning, February 1, 2007, in Beijing. [Photo: China.com.cn]


China's Ministry of Railways has pledged more supervision on train ticket sale activities to prevent passengers from paying extra for a train ticket.
Ministry spokesman Wang Yongping said in Beijing at a press conference on Thursday that railway stations and illegal 'ticket touts' will be required to face the most severe of punishments for any form of fare rise.
Initiated in 2001, the train fare hike used to be a measure taken by the railway ministry to diversify passenger flow during the Spring Festival travel peak. But the measure was criticized for increasing people's financial burden without succeeding in adjusting the passenger flow.
Wang Yongping said the railway ministry hopes the public will monitor the sale of tickets and report illegal dealing.
The spokesman also promised that railway stations across the country will open more fare boxes and extend working times, to ensure that as many passengers as possible can buy tickets. He said that some larger railway stations will work around-the-clock.