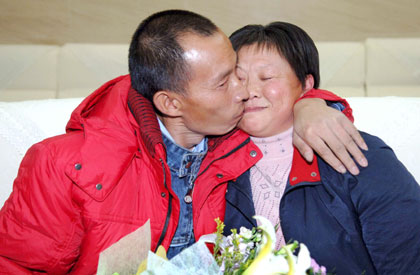 Gao Zemin, one of the five Chinese workers who were kidnapped in Nigeria on January 5, kisses his wife at Chengdu Shuangliu Airport January 23, 2007 on his return home. The workers were set free with the help of the Chinese government last week after a 13-day ordeal.[newsphoto]


Five Chinese telecom workers who were held hostage by bandits in Nigeria for nearly two weeks arrived home in Beijing yesterday afternoon.

The rescued hostages said their 13-day ordeal had been "hell on earth."

They were kidnapped in the small hours of January 5 while sleeping in temporary quarters at a construction site in Rumuakunde Emouha, a village about 35 kilometers from Port Harcourt, capital of the southern state of Rivers.

The kidnappers first took them to a tiny islet in a swampy area full of crisscrossing streams, then moved them by boat to a slightly larger island where they were held until their release last Wednesday.

At the time of the kidnapping only one man was wearing long pants, while the others were forced out in their underwear. Their bodies' only protection on the mosquito-infested island was dirty jackets given to them by the bandits.

By the time they were set free they were covered with mosquito bites.

They said they knew the government was working to free them and only hoped they would be released as soon as possible.

Their release came after tense negotiations by a team that included embassy staff and officers from the Sichuan Telecommunication Company, which they were working for.

Assistant Foreign Minister Kong Quan, who was at the airport to greet the workers, said after the kidnapping President Hu Jintao and Premier Wen Jiabao ordered the foreign ministry and Chinese embassy and consulate in Nigeria to do everything possible to rescue them.

All five of the hostages are from Sichuan Province. Two are interpreters from the provincial capital Chengdu, the other three technicians from the cities of Meishan and Neijiang.

30,000 cases handled

The hostage negotiations are a particularly dramatic example of the thousands of cases consular services handle every year.

In 2006 alone China handled more than 30,000 consular cases, according to figures from Ministry of Foreign Affairs.

The figure of such cases for 2005 was 29,000. The rise is attributed to the steady growth of Chinese going abroad for business, holidays, education or employment, as well as changing political, economic and security circumstances.

According to official statistics there were only 280,000 outbound Chinese travelers during the 30 years from 1949 to 1979. Last year 32 million people traveled overseas.

The Ministry of Foreign Affairs released about 400 special notices on outbound travel on its website, fmprc.gov.cn, last year.

The ministry also established the Division of Consular Protection under the Department of Consular Affairs on May 29 last year, specifically to protect the interests of nationals traveling outside China to potentially dangerous countries.

Since its establishment, the division has helped evacuate citizens from East Timor, Tonga and the Solomon Islands.