5 Chinese kidnapped in Nigeria freed
(Xinhua)
Updated: 2007-01-18 13:05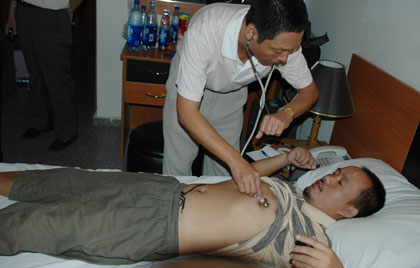 A Chinese worker undergoes a physical check in Port Harcourt, Nigeria January 16, 2007 after he and other four were freed by hostage-takers. [Xinhua]


LAGOS -- The five Chinese telecoms workers, who have been kidnapped by Nigerian gunmen and were released safely in southern oil city Port Harcourt on Wednesday night, are basically in good health condition, Chinese sources said here on Thursday.

The sources said "after 13 days of intense work, the five compatriots are finally released."

After an initial medical examination, doctors said that the workers are physically weak but basically in good health condition.

The workers said that they have not taken bath in the past two weeks.

They will arrive in the Nigerian capital Abuja on Thursday morning, the sources said.

In Beijing on Thursday, the Chinese Foreign Ministry thanked the Nigerian side for their support and assistance in securing the release of the kidnapped Chinese workers.

After the five workers were kidnapped on January 5 from their residence in Rumuakunde Emouha, a village about 35 km away from Port Harcourt, the capital of Nigeria's southern state of Rivers, a crisis management team composed of staff of the Chinese embassy in Abuja and the China's Sichuan Telecommunication Company that employed the workers went to Port Harcourt to seek their release.

Nigerian President Olusegun Obasanjo has directed the Nigerian government and police to give full support to the Chinese team.

Chinese President Hu Jintao and Premier Wen Jiabao ordered the foreign ministry and China's embassy and consulate in Nigeria to do everything possible to rescue the kidnappedĦĦ telecommunication workers.

The Chinese telecom company was involved in the Nigerian rural telephone project which, when completed and put into operation, will help improve telecommunication service in various rural areas in Nigeria, the most populous African country with a population of over 140 million.

Chinese Foreign Minister Li Zhaoxing has talked by telephone with his Nigerian counterpart Joy Ogwu about the matter.

Rivers State is located in the oil-rich but troubled Niger Delta where there have been more than 10 kidnappings of foreign workers since the beginning of 2006. This is the first time thatĦĦ Chinese workers have been kidnapped.


Most Commented/Read Stories in 48 Hours