BEIJING -- China and the United States on Thursday morning kicked off their first strategic economic dialogue, the latest sign of bilateral efforts to boost their long-term relationship.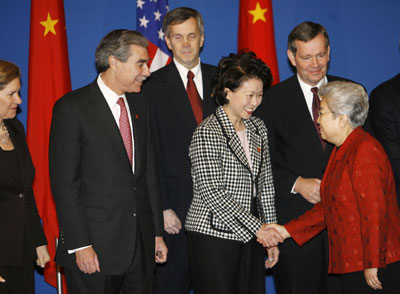 Chinese Vice Premier Wu Yi (R) greets US Labour Secretary Elaine Chao (C) as US Commerce Secretary Carlos Gutierrez (2nd L), US Trade Representative Susan Schwab (L), and US Health Secretary Michael Leavitt (2nd R) watch at the Great Hall of the People in Beijing December 14, 2006, ahead of their strategic economic dialogue. High-powered talks between Chinese and US economic chiefs began here as part of efforts by the US to resolve a wide range of trade disputes between the two nations. [Reuters]



Chinese Vice Premier Wu Yi and the US Treasury Secretary Henry Paulson co-chaired the dialogue as special representatives of President Hu Jintao and President George W. Bush.

"The dialogue is a significant event in China-US trade relationship.It is conducive to enhancing trust and dispelling suspicion to strengthen the dialogue between China and the United States in the economic field," Wu said at the beginning of the meeting.

She said the dialogue would focus on the discussion of "global, strategic and long-term" macro-economic issues of common concern.

The United States would like to forge mutually-beneficial trade ties with China as China has integrated into the global economic system, Paulson was quoted as saying in a statement released by the Chinese Foreign Ministry.

Paulson hailed the dialogue as a platform for the two countries to cope with strategic issues in economic relationship, the statement said.

The two-day dialogue focused on "China's development road and economic development strategy," the statement said.

The meetings are the first under a twice-a-year strategic economic dialogue mechanism, which was launched in the Chinese capital in September.

The dialogue came at a time that China-US trade relationship may enter a more complicated and subtle stage as the five-year interim period after China's WTO accession came to an end on December11. That means China would face more intense foreign competitions in various fields.

"That's why China and the United States held the strategic economic dialogue at this time," said Yan Xuetong, a researcher with Chinese prestigious Tsinghua University. "The dialogue will help avoid the escalation of the trade disputes."

| | | |
| --- | --- | --- |
| 1 | 2 | |