China will respond positively to the United States in the Economic Strategic Dialogue between the two sides, which is to be held later this week, the central bank chief said yesterday in Beijing.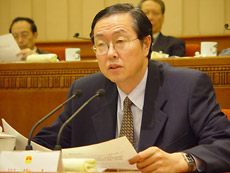 Zhou Xiaochuan, governor of the People's Bank of China. [File photo]


"(US Treasury Secretary) Hank Paulson raised the issue of having an economic dialogue. We are prepared to give a very positive and active response to that," Zhou Xiaochuan, governor of the People's Bank of China (PBOC), said at the Caijing Magazine Annual Conference.

The dialogue issue was raised in September by Paulson when he met Vice-Premier Wu Yi during his first visit to China in his capacity as the treasury secretary.

The dialogue's first session will be held on Thursday and Friday. Zhou will be among top Chinese economic policy makers at the talks. The US delegation will include Federal Reserve Chairman Ben Bernanke, Trade Representative Susan Schwab and other senior officials.

"This is a very important strategic dialogue and probably it's good for policy co-ordination and also for trade imbalances and many other issues," Zhou said.

He made the remarks during a question-and-answer session after his speech, which itself was rather academic and was mainly about the rationale of China's current monetary policy.

Although China has been studying the monetary policies of countries with mature market economies, the goals of China's monetary policy are still different from those countries, Zhou said.

He said at the current stage, China could not pick controlling inflation as the monetary policy's sole target.

"We have to consider other goals, such as economic growth, employment and the country's balance of payment," he said

Zhou said he had heard comments about PBOC's lack of independence in formulating monetary policy.

He pointed out that China's monetary policy has been supportive to the country's overall development and reform agenda.

| | | |
| --- | --- | --- |
| 1 | 2 | |
(For more biz stories, please visit Industry Updates)