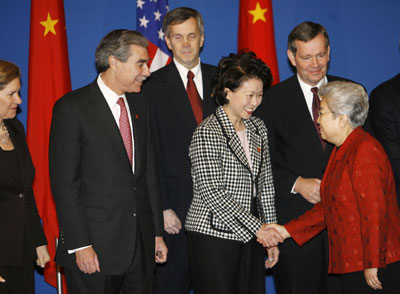 Chinese Vice Premier Wu Yi (R) greets US Labour Secretary Elaine Chao (C) as US Commerce Secretary Carlos Gutierrez (2nd L), US Trade Representative Susan Schwab (L), and US Health Secretary Michael Leavitt (2nd R) watch at the Great Hall of the People in Beijing December 14, 2006, ahead of their strategic economic dialogue. High-powered talks between Chinese and US economic chiefs began here as part of efforts by the US to resolve a wide range of trade disputes between the two nations. [Reuters]


BEIJING -- Chinese Vice Premier Wu Yi on Thursday underscored that China will adhere to the policy of reform and opening up.

"Reform and opening up are the most distinct characteristics of contemporary China, and an important experience for the success of China's economic and social development," Wu told the first China-US Strategic Economic Dialogue that opened earlier Thursday.

Wu and US Treasury Secretary Henry Paulson co-chaired the dialogue as special representatives of President Hu Jintao and President George W. Bush.

In her keynote speech entitled "China's Development Road," Wu said China will continue to improve the socialist market economy system.

The basic economic system of keeping public ownership as the mainstay and allowing multiple forms of ownership to develop together will be perfected, she said.

"We will continue with the reform and reorganization of large-scale SOEs, encourage strategic investors to participate in the diversification of investment makers and property, and make share-holding system the key form of public ownership," Wu said.

A uniform, open, competitive and orderly modern market system will be put into place, she said.

Wu vowed that China will continue to perfect the legal and policy system for opening up and intensify IPR protection in a responsible manner and uphold the multilateral trading system.

China will actively push forward regional trade and investment liberalization, and promote a rough balance of international payments, she said.

Wu also pledged China will stick to the reform of the political system, saying China will continue to develop more institutionalized and standardized socialist democratic politics with well-defined procedures and to build a socialist country ruled by law.

"In the next five years, China will give priority to the administrative system reform, the transformation of government functions," Wu said.

China respects and protects human rights and values the active role of international human rights conventions in advancing human rights, she added.

The two-day dialogue, the highest-level one among the existing China-US dialogue and consultation mechanisms, is aimed at examining long-term strategic issues in bilateral trade relationship.

Wu said she hoped this dialogue enable the US side to have a relatively comprehensive and systemic perspective of China, a better knowledge of the country, thus enhancing mutual understanding and trust.